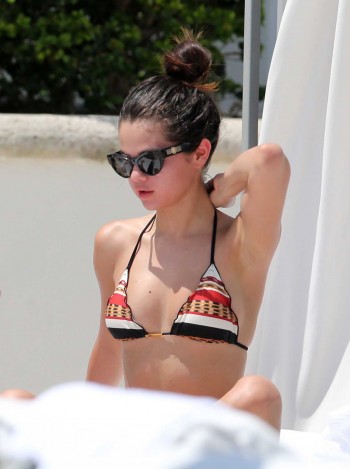 DALLAS, Jun 9, 2013/ — When Selena Gomez was spotting in Miami early this week wearing a pair of black Versace 'Signature' sunglasses, the high-end sunnies became her fans summer obsession.
And with the summer solstice just 12 days away, this sunglasses obsession immediately turns into a summer must-have. Alright, that's not a big revelation. It's common knowledge that we need sunglasses during the summer. But, what we don't know is that eye care professionals highly recommend wearing sunglasses the whole year round!
It is medically proven that wearing sunglasses reduce the risk of eye conditions such as cataracts and pterygiums which can be caused by exposure to UV (ultra violet) radiation.
But, contrary to popular belief, sunglasses do not need to be expensive to protect your eyes from UV or Blue-light radiation. As long your sunglasses protect your eyes from these harmful light waves, then you are saving your eyesight.
Of course, it goes without saying that we want the Versace 'Signature' sunnies that Selena Gomez was wearing. They are after all Cool Sunglasses. Just remember that in this case, protecting your eyes is more important than style.