MIAMI, July 24, 2013/ FW/ — Entitled 'Life in the Kat Lane', in an ever-changing music marketplace, Kat Lane redefines what it means to be a successful artist. Belief, foresight, follow-through, and good old-fashioned 'heart' are the ingredients that allow her to thrust through the industry without falling victim to conventional hindrances.
"The goal is to affect people", she'd say, "and not in an 'I'd do anything for their attention' kind of way, but the kind of way that has a possibility to stay with a person beyond the entertainment value."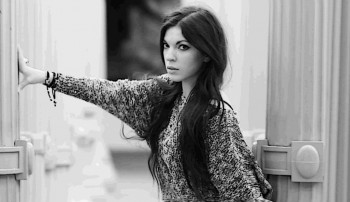 As a signed artist to Sound Business Recordings, a counterpart of the S.O.T.C. multimedia brand, Kat is willing to go the distance in achievement, while at the same time, learning everything that is tied into her brand beyond the microphone. Kat's interest lies in being there for people, bringing something new to their minds, and touching them through her music and lyrics.
Fashion Windows catches up with the talented musician, Kat Lane to discuss her music, the release of her new album "Miami in the Summer EP", and her devoted passion for the arts.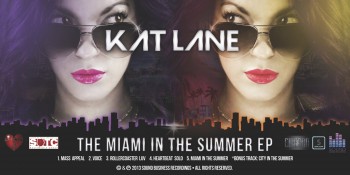 Fashion Windows: How did you get started in music?
Kat Lane: I recorded my first song at the age of 12, and have always had a passion for music and the arts. As a passionate, vibrant, and dedicated person, singing and song writing has been a form of self-expression for me, and I believe that "your heartbeat can be your greatest motivation if you let it."
FW: What inspires you to sing?
KL: I am inspired to sing because singing, dancing, song-writing, really any form of self-expression and creativity sets me free and allows me to go somewhere and do great things. Also, I am strongly inspired to sing because I love to inspire others to be positive and confident.
FW: You just released "Miami in the Summer" this week. What was the inspiration for that song?
KL: The inspiration for my song "Miami in the Summer" was influenced by the city life of Miami, which is filled with creative people, beautiful, different landscape, and a melting pot of diverse cultures.
FW: You are also DJ, what music inspires you and how did you get into that?
KL: As a DJ, it is all about the creativity, hearing things differently than others, and presenting a music mix in a new, innovative way.
When I am deejaying and learning the craft at Scratch DJ Academy here in Miami, I love mixing my own music with songs such as Robin Thicke's "Blurred Lines", Daft Punk's "Get Lucky", and Maroon 5's "Love Somebody."
FW: As for fashion, what is your personal style?
KL: I would describe my personal style as sophisticated with an edge because I love to wear bold colors with deeper tones. On stage, I tend to wear black and eggplant colored looks. I also love to tastefully mix leather and lace, showcasing a sense of elegance with an electric vibe.
As for fashion, I also have a line of Kat Lane t-shirts sold exclusively on my website, www.katlanemusic.com, that contain motivational 'Kat Quotes' that express the importance of confidence and positivity.
FW: What has been the best moment in your career thus far?
KL: Finishing my album "Miami in the Summer EP" was a great moment in my career because seeing the finished product made all the steps, dedications, and hard work worth it.
FW: What career advice do you have to give to others?
KL: My best career advice is to have passion, know what you want, and go for it; don't hold yourself back. Also, have thick skin, but dream big and reach for the stars, you're more powerful than you think you are.
FW: What's next for you?
KL: I just released my music video for "Miami in the Summer" on Monday, and my first album called "Miami in the Summer EP" will be released early next week.
FW: Do you have anything else to add?
KL: I live by the motto "A gift is in the journey not the destination."
For More Information about Kat Lane, Please Visit:
@katlanemusic
http://www.facebook.com/katlanemusic
Check out the "Miami in the Summer" music video:
[DARBY RADCLIFF]
 Photos Courtesy of Sound Business Recordings