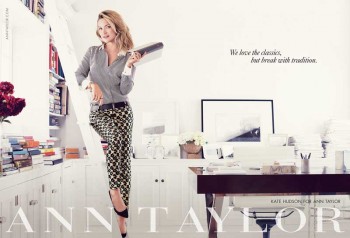 NEW YORK, Jul 31, 2013/ — The title simply says "Chic. Life. Style." It is the story of Ann Taylor, told through the multifaceted lives women live today.
Told through the lens of famed fashion photographer Mikael Jansson and the real life of actress Kate Hudson, the campaign portrays the story of smart, stylish women who make things happen their way, 24/7.
It's about women who transition with style from one moment to the next in their busy, brilliant lives, and are authentic, inspiring and generous in everything they do.
"Kate approaches her life in the same way the women at Ann Taylor do," said Head of Design Lisa Axelson. "She has responsibilities that transcend the workplace and she gives her all every day and looks amazing every step of the way, making meaningful decisions to maintain her wonderful, whirlwind lifestyle. Being a working mother myself, I truly admire her."
Kate Hudson is an actress, businesswoman, and fashion muse as well as a mother-of-two and mentor to young women, making her perfectly suited to this role.
"This campaign is my favorite so far. It's a glimpse into my life and the full, busy lives women live every day," Hudson said. "We are constantly striving for balance. We want to excel at our jobs, be there for our families and look and feel fabulous doing it."
Hudson will continue to serve on the Advisory Council for ANN INC.'s ANNpower Vital Voices Initiative, a program that supports the empowerment of young women, as well as appear in Ann Taylor's campaigns through 2014.
We know it's not just about style, it's about a lifestyle.
The campaign features Hudson wearing chic, iconic pieces from the brand's fall collection as she reads film scripts, bakes cookies with her nephews, and picks up the morning paper.
The images are paired with powerful lines that capture the wild and wonderful 24/7 moments we all experience as busy multitasking women. The "We" in every campaign tagline is the unifying element between Ann Taylor, a brand dedicated to women, and the women out there living the same lives we lead every day. The campaign debuts this September and is slated to run in print and online.