MIAMI, AUGUST 5, 2013/ FW/ — Entitled 'Reyhan Sofraci Discusses the Aqua Di Lara Swimwear 2014 collection', the award winning designer, Reyhan Sofraci, presented the Aqua Di Lara Spring/Summer 2014 collection at The Raleigh Hotel during Mercedes-Benz Fashion Week Swim. Aqua Di Lara, the high-end swimwear label based in Montreal, Quebec, has garnered attention from fashionistas and beachgoers all over the globe and is now considered one of Canada's eminent designer brands.
Fashion Windows catches up with Reyhan Sofraci, the talented Creative Director of Aqua Di Lara, to discuss the Aqua Di Lara Swimwear 2014 collection.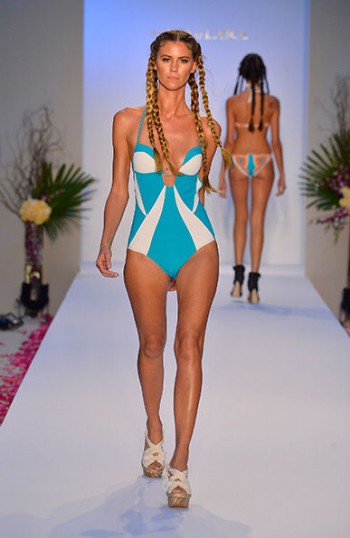 Fashion Windows: What was the inspiration for your Aqua Di Lara Swim 2014 collection?
Reyhan Sofraci: The White label was inspired by the World Traveler – it embodies pieces of different cultures from around the world – from French lace, to English gardens, to the feel of the amazon and the intricate laces of India.  It has a bit of everything.
The Black label was inspired by the funk of the 90's with color blocks, chains and twists and turns on the body.  We still maintained the sexy elegance that is known to be Aqua Di Lara and created placement prints that added that je n'ai sais quoi.
FW: What were your favorite materials and hues used in your Swim 2014
collection?
RS:I love the new twist print that we created and all the pieces in that fabric.  The forms look great on the body with the peek-a-boo skin effect.  As for colors, I really like the lilac and green in the White label and love the combination of black fuschia and gold i the Black label.
FW: What is your favorite look in your collection?
RS: I love the one piece with the lace tie back.  I find it is sexy due to the print placement and flirty with the lace tie back
FW: What inspires you to design?
RS: I am inspired by absolutely everything.  I especially love lingerie, evening wear and architecture.
FW: What has been the best moment in your career thus far?
RS: There have been so many moments that I would say that I was so lucky and blessed to experience through all these years.  One moment that I guess would stand out would be receiving a personal letter from Ivanka Trump thanking me for her suit that we made her.  I found that to be very classy and admirable of her.
FW: What's next for the Aqua Di Lara brand?
RS: We would like to expand on our resortwear collection and also start a sportswear division.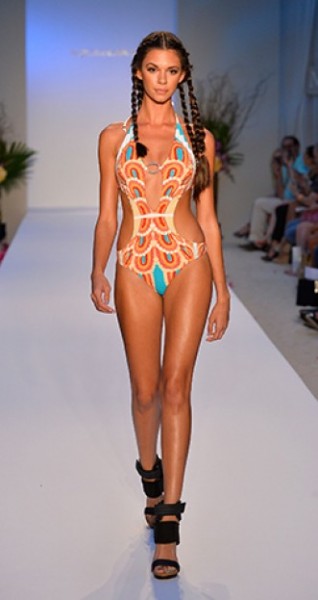 Aqua Di Lara swimwear is available in exclusive boutiques and online stores throughout Canada and the United States as well as France, Belgium, Monaco, The Netherlands and the United Arab Emirates.
For More Information about Aqua Di Lara, Check Out:
Aqua Di Lara's   Website   Facebook  Twitter
[DARBY RADCLIFF]
 Photos Courtesy of Aqua Di Lara and Getty Images