New York, September 18, 2013/ FW/ — Entitled 'Fourth Annual ELLE Fashion | Next, for its fourth annual Fashion|Next runway show and design awards presented by Maybelline New York, ELLE Magazine partnered with the prestigious School of the Art Institute of Chicago (SAIC) with the mission to support the vision of emerging designers and foster fashion's next generation.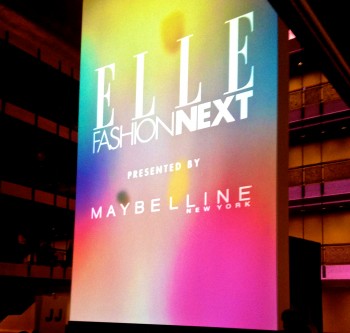 The SAIC students that were chosen to showcase their Spring 2014 Ready-to-Wear collections in this year's ELLE Fashion | Next runway show included: Taylor Larson, Lucy Silverman, Kara Marie Fenoglietto, Tess Olson, Alexandra Astor, Elaine Hoang, Savannah Cipriano, Carlie Hougen, Courtney Schneider, Seth Garlock, Elizabeth Crum, Kirstie Breitfuss, Caroline Kuhlman, Jacqueline Nadolski, Krystle Thomas, Gnat Brilmyer, Jihe Lee, Samuel Salvo, Marianne Finneran, Marie Froehlich, Brian Mcintyre, Ana León, and Austin Yamada.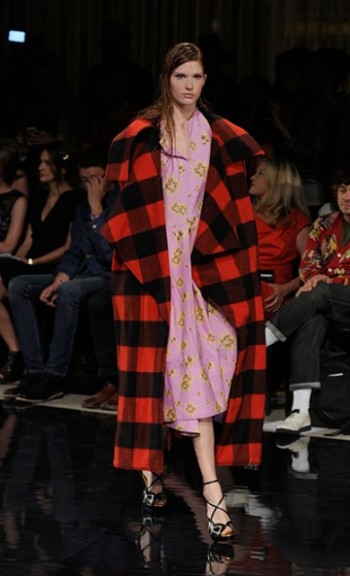 This year's judge panel for Fashion | Next included the fashion talents such as: Carolyn Dawkins, Alan Eckstein, Shane Gabier, Pamela Love, Ashley Madekwe, Coco Rocha, Louise Roe, Charlotte Ronson, Anne Slowey, Timo Weiland, and Joe Zee.
The SAIC winners for this year's ELLE Fashion|Next included the talented students and emerging designers, Carlie Hougen, who was awarded the ELLE | Fashion Next Design Award, and Savannah Cipriano, who was the winner of the Maybelline New York Fashion | Next Design Award.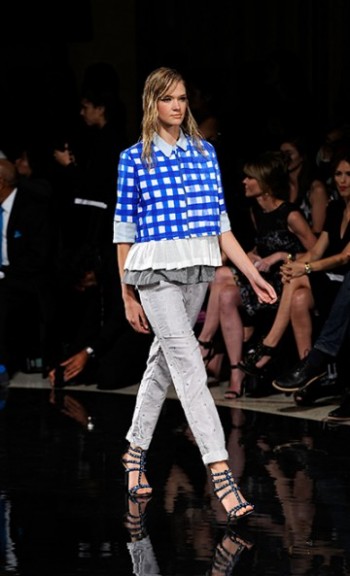 Chosen exclusively by ELLE editors and an esteemed panel of fashion industry judges and awarded with a grand prize of $25,000, Carlie Hougen's vibrant Spring 2014 collection included a violet floral dress, red and black plaid overcoat, yellow pleated wide-leg cropped pant, and pink knit oversized sweater.
Savannah Cipriano was awarded by Maybelline New York with a grant of $25,000 for her stunning Spring 2014 collection included a short sleeve clear pvc top, red vinyl skirt with cutout detail, and a peach wool and perforated pvc dress.
As for the 2013 People's Choice Award, which is a grand prize of $10,000, users can log onto ELLE.com/FashionNext to vote for their favorite designer.
[DARBY RADCLIFF]
 Photos by Darby Radcliff and Runway Photos Courtesy of Mercedes-Benz Fashion Week