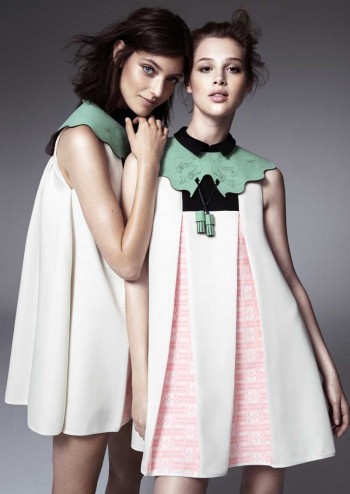 NEW YORK, Sep 25, 2013/ — Royal Academy of Fine Arts in Antwerp graduate Minju Kim won the 2013 H&M Design Award competition and her winning collection will be available from October 17 at selected H&M stores in Sweden, Denmark, UK, Japan, South Korea, Italy, France, the Netherlands, Belgium and Germany and the US.
It will also be available at Opening Ceremony in New York, Los Angeles and London, marking the first time an H&M collection will be sold at Opening Ceremony stores in the US.
"Creating this collection with H&M has been an amazing experience. My designs are about turning characters into outfits, and it's exciting to think that these characters will soon be worn by people around the world. Winning the H&M Design Award has given me a unique insight into the global fashion industry," says Minju Kim.
Minju's pieces for H&M bring the dream world of Manga to life with unique cuts and clever fabric combinations. A collarless coat in vivid yellow, a short jacket in two contrasting jacquards or a cape made of black wool creates a sweet rounded silhouette.
The textured heavy knit, links the sleeves to the body with cartoonish curves, while a neoprene-fronted sweatshirt is printed with Manga-inspired images drawn by Minju herself. A paneled minidress mixes matte with shine, while jacquard trousers keep their structured shape.
To complete the look there's a black and white wedge platform lace-up and a characterful turquoise leather collar.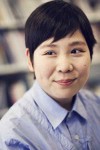 Launched in 2012 as an annual competition, the 2014 international H&M Design Awards is designed to encourage and support young fashion design graduates as they embark on their careers. And beginning 2014, students from the Fashion Institute of Technology and Parsons the New School for Design will be part of the competition.
The winner of the H&M Design Award 2013, 27-year old Minju Kim was selected by a jury of international fashion experts consisting of H&M's Creative Head of Design Ann-Sofie Johansson, designer Jonathan Saunders, editor-at-large Tim Blanks, blogger and photographer Hanneli Mustaparta, fashion journalist Kristopher Arden-Houser, stylist Leith Clark, photographer Sølve Sundsbø and H&M's creative advisor Margareta van den Bosch.
As part of her overall prize, nine women's pieces and two accessories have been developed with the H&M design team.
Minju is a designer from South Korea who graduated in spring 2013 from the final Masters year at the Royal Academy of Fine Arts in Antwerp. She won the H&M Design Award 2013 with her collection titled "Dear My Friend", inspired by Japanese Manga cartoonist Junji Ito, and received a €50,000 prize, a show at the Mercedes-Benz Stockholm Fashion Week in January 2013 and the chance to develop pieces from her collection with H&M.