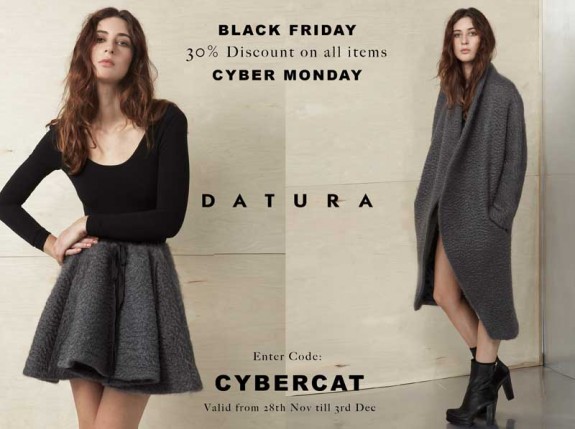 Get 30% Discount on all items on Black Friday and Cyber Monday at www.datura.com
Enter Code: CYBERCAT
Valid from November 28th until December 3rd.
Launched in summer of 2013, DATURA designer Stefania Borras has introduced a new collection and e-commerce website that fuses the beauty of the Mediterranean with an urban sophistication.
Designed in New York City and produced in Barcelona, Datura features timeless, feminine pieces that emulate a sense of refined ease and comfort. Datura.com features web only pricing, intentionally bypassing shops, distributors and showrooms in order to offer amazing prices while maintaining outstanding quality.
Focused on creating superior quality, Datura promotes a "slow fashion" method, making a conscious choice to control the way its clothes are made and offering timeless pieces rather than the latest trends that are worn once and discarded.
The Datura collection will be available exclusively on Datura.com, with retail prices ranging from $90.00 up to $600.00.