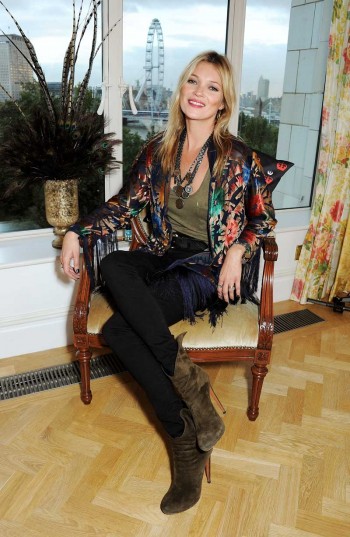 LONDON, Nov 29, 2013/ — "From the very beginning Kate was iconic; she never had to become a model. She has the same energy, the same seduction and the same wit – in front of the camera and with everyone, I love you Kate!" exclaimed Donatella Versace about Kate Moss.
And Donatella is right because if we are asked to name top models, the name Kate Moss always comes up. Discovered in New York by Sarah Doukas, founder of Storm Model Management, Kate Moss became one of the most recognizable names in fashion.
On Monday, 2nd December, at the British Fashion Awards, the British Fashion Council will honour Kate Moss with a Special Recognition Award for her 25 year-long career and continued influence on the fashion industry as the fashion icon of her generation.
Kate has worked with every designer of note, including Mcqueen, Galliano, Marc Jacobs, Stella
McCartney, Saint Laurent, Dior, Calvin Klein, Chanel, Louis Vuitton, and her editorial still sets the bench mark high in terms of sheer versatility, originality and its ability to communicate the aspirations and realities of many generations.
Her work with Corinne Day at the age of 15 remains instrumental in shaping the face of the fashion industry, and Kate is synonymous with the spirit of British innovation. Kate Moss's career spans 25 years. Today, her career continues to surprise and delight both the fashion industry and her fans.
She is fearless and intuitive when it comes to choosing her projects, has a strong work ethic and an inherent knowledge of the fashion industry, and it is these qualities which endear her to everyone she works with. Kate has collaborated to create some of the most celebrated and iconic fashion photography, and she remains an inspiration to designers, photographers and artists.
Kate's ever-diversifying achievements in the fashion industry have seen her launch her own collections for TOPSHOP, Longchamp, Fred and Rimmel. Her next collection for TOPSHOP will launch in 2014.
As the world's most prolific Vogue cover girl – Kate has appeared on 34 covers for British Vogue alone – it was a natural move for her to be appointed contributing fashion editor for the magazine. Her first story will be published in a forthcoming spring issue.