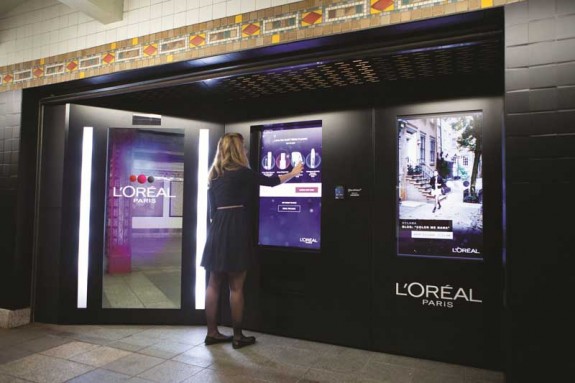 NEW YORK, Nov 3, 2013/ — New Yorkers are about to stop in their tracks. Riding the subway just got more beautiful thanks to L'Oreal Paris. The leading global beauty brand is making history by unveiling the first-ever, intelligent vending experience in the New York City Subway system.
Launching Monday, November 4, 2013, the breakthrough L'Oreal Paris Intelligent Color Experience works as a three-step process. It first detects the colors in a woman's outfit and picks out the most prominent and related color palettes, then recommends L'Oreal Paris products to match and lastly allows women to quickly and easily purchase those products on the spot.
Stationed within the Bryant Park subway station and developed by digital agency R/GA, the L'Oreal Paris Intelligent Color Experience is part of a partnership with R/GA and CBS Outdoor. L'Oreal Paris was chosen as the inaugural brand to participate in the two-month program.
FROM STEPPING UP TO STANDING OUT: HOW IT WORKS
When a woman approaches the L'Oreal Paris Intelligent Color Experience, she sees her reflection in a full-length, well-lit mirror. She is then immersed in a world of color. Digital animations that represent her silhouette and the colors she is wearing appear alongside her reflection and suggest expertly-coordinated eye, lip and nail shade recommendations that "Match" or "Clash" her outfit.
Women can experiment with a variety of personalized looks from L'Oreal Paris' best-selling Colour Riche franchise, beloved for its luxurious formulas and rich shades. From the time the mirror scans a woman's look to when the products are in her purse, the entire experience takes less than two minutes.
THE COLORFUL DETAILS
The L'Oreal Paris Intelligent Color Experience is open November 4, 2013 through December 30, 2013, helping women look and feel beautiful on-the-go throughout the holiday season. Eye, nail and lip products from L'Oreal Paris' Colour Riche franchise will all be available for purchase along with the brand's newest mascara innovation, Voluminous Butterfly.
Women will have the option to purchase just one or the multiple products recommended to them. Prices will be in line with other New York City retailers.
The L'Oreal Paris Intelligent Color Experience is located in the MTA Bryant Park subway station and can be accessed from the entrance on the southwest corner of Fifth Avenue and 42nd Street.
It will be open weekdays from 7:00AM – 9:00PM and on weekends from 10:00AM – 8:00PM, with limited hours on Thanksgiving and Christmas Eve and closed on Christmas Day.