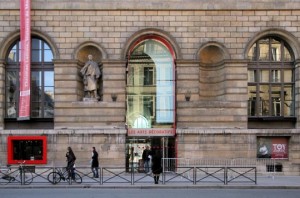 DALLAS, Jan 11, 2012/ FW/ — There a few things that we will get out of bed for, fashion and designers being at the top of the list. This year sees the arrival of the 'Louis Vuitton – Marc Jacobs' exhibition at the Musée des Arts Decoratifs in Paris.
The exhibition, which will span two palatial floors, pays homage to the young designer and the revolutionary trunk maker. Marc Jacobs has now been at Louis Vuitton for 15 years, and has completely revolutionised the luxury brand.
From March 9 you will be able to see stunning creations in a truly mesmerising location. Exhibits including one of the first trunks made in 1869 by Monsieur Louis Vuitton himself will surely attract masses of fashion fans. Although creations by the young creative director will undoubtedly prove even more popular than the earlier pieces.
Since 1997 Marc Jacobs has been making waves in the fashion industry with his vision and driving force. Louis Vuitton certainly wouldn't be the fashion powerhouse it is today without the input of the new creative director. Jacobs is responsible for reinventing the brand and bringing bright, memorable designs to fashion lovers everywhere.
Who fancies a trip to Paris in spring?