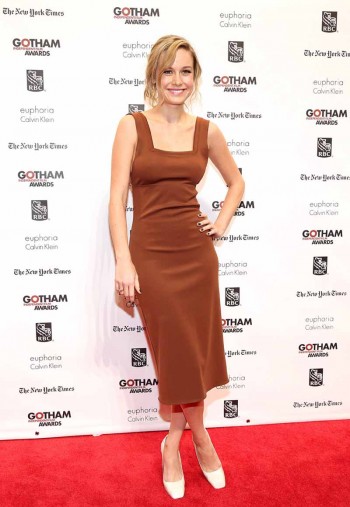 NEW YORK, Dec 3, 2013/ — Actress Brie Larson made history at the 23rd Annual Gotham Independent Film Awards when she became the inaugural winner of the Best Actress Award sponsored by euphoria Calvin Klein.
Lauded for her role at Short Term 12, Ms. Lauren accepted attended the proceedings and accepted the award wearing Calvin Klein Collection.
Additionally, euphoria Calvin Klein and the IFP presented the third annual 'Live the Dream' grant awarded to Gita Pullapilly for her film, Beneath the Harvest Sky. Shailene Woodley, who was also wardrobed by Calvin Klein Collection for the evening presented the award.
Also lauded during the evening was Michael B. Jordan who won the award for Breakthrough Actor (Fruitvale Station), and Oscar Isaac who accepted the award for Best Feature on behalf of directors Joel and Ethan Coen for their film, Inside Llewyn Davis. Forest Whitaker also received one of the evening's highest honors, a career tribute from the IFP. All three gentlemen wore Calvin Klein Collection.
Vanessa Axente who is featured in the new endless euphoria Calvin Klein advertising campaign attended last night's event to support the euphoria Calvin Klein brand's ongoing independent film platform.
Other guests of note in attendance included Mayor Bloomberg, Jared Leto, Ethan Hawke, Julie Delpy, Steve Buscemi, John Goodman, Rashida Jones and Amy Poehler.
The Gotham Independent Film Awards™ marks the second occasion euphoria Calvin Klein has partnered with the IFP this year, following the 66th Cannes Film Festival in May.
IMAGE CREDITS: © 2013 Sara Jaye Weiss, courtesy of Calvin Klein Collection