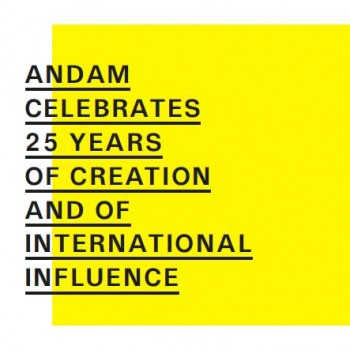 PARIS, Jan 30, 2014/ — Founded in 1989 by Nathali Dufour with M. Pierre Bergé as president, the Association Nationale pour le Développement des Arts de la Mode (ANDAM to identify and support the emerging talents of contemporary designers and assure the role of Paris as a key fashion capital.
And ANDAM celebrates its 25th anniversary; its total endowment has grown to 325,000 euros, which happens to be the biggest fashion prize in the world.
The ANDAM International Fashion Award of 250,000 euros will offer to a French or foreign designer willing to establish a sustainable business in France thus contributing to the dynamism of Paris fashion scene and French industry.
Another grant worth 75,000 euros will also be awarded to a young company based in France confirming ANDAM's committed support to the French fashion industry.
In addition to these financial endowments, the two fellowship winners will access to a worldwide visibility by having the opportunityto present their collections to the international corps of journalists and buyers during Paris Fashion Week in October 2014.
Winners of the ANDAM Fashion Award since it began includes: (in alphabetical order)
31 février
AMI Alexandre Mattiussi
Adeline André
Alexandre Matthieu
André Walker
Anne-Valérie Hash
Anthony Vaccarello
Benoît Méléard
Bernard Willhelm
Bless (Ines Kaag & Desiree Heiss)
Bruno Pieters
Carel & Rubio
Cathy Pill
Charles Anastase
Christian Wijnants
Christine Phung
Christophe Lemaire
Commuun (Kaito Hori & Iku Furudate)
Darja Richter
Dorothée Perret
Dragovan
Elsa Esturgie
Erik Halley
Felipe Oliveira Baptista
Frédéric Molenac
Gareth Pugh
Gaspard Yurkievich
Giles Deacon
Gilles Rosier
Hakaan Yildirim
Hervé Van der Straeten
Isabelle Ballu
Jean Colonna
Jean Touitou (A.P.C)
Jens Laugesen
Jeremy Scott
José Levy
Julien David
Jérôme Dreyfuss
Laurent Mercier
Ligia Dias
Lutz
Mahmoud Akram
Maison Martin Margiela
Marie Seguy
Mariot Chanet
Natalia Brilli
Olivier Guillemin
Patrick Van Ommeslaeghe
Pièce d'Anarchive
Richard Nicoll
Sami Tillouche
Sébastien Rodriguez
Thomas Engel Hart
Toga (Yasuko Furuta)
Udo Edling
Vava Dudu & Fabrice Lorrain
Vivianne Cazeneuve
Véronique Leroy
Xuly Bët
Yaz & Emel Yazbukey
Yazbukey (Yaz & Emel)
Yiqing Yin
Yvan Mispeleare