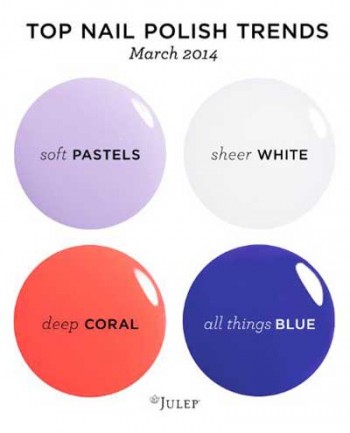 SEATTLE, Mar 12, 2014/ — "Pay attention to fingertips, because what women wear on their nails is a harbinger for larger trends – both fashion-focused and economic," said Jane Park, CEO and founder of Julep Beauty, one of the world's fastest-growing omni channel beauty brand.
"Most 'trends' in the beauty and fashion worlds are decided by editors and designers, but the Julep Nail Polish Color Report unveils actual style movements women are adopting across the US," Park added.
Unveiling its latest Nail Polish Color Report, Julep says that soft pastels, sheer white, shades of blue, and deep corals are the colors to watch.
Soft pastels: Sherbet shades like Julep's Rae, a radiant orchid creme that's an exact match to the Pantone® 2014 Color of the Year; Elisa, a soft wisteria shimmer; and Lilou, a lemon chiffon creme, were top sellers in Julep's March Maven box.
Sheer white: White is always a fresh choice for spring, and consumers and fashion designers alike are gravitating toward airy, alabaster tones with translucent finishes. It's unsurprising that Julep's Soraphine, a classic sheer white creme, was a top choice for March.
All things blue: Blues of all shades – from cobalt to pale cornflower – made a strong statement on the spring runway. Julep's Monaco, a dazzling mariner blue creme that's an exact match to the Pantone® 2014 Color of Spring; Margaret, a light periwinkle creme; and Tania, a mermaid teal glitter, were also top sellers.
Deep coral: Pink, red, and orange-tinted coral hues dominated the runway at Spring Fashion Week. In March, Julep Mavens went crazy over Harriet, a guava coral creme shade that brings French Riviera flair to nails.