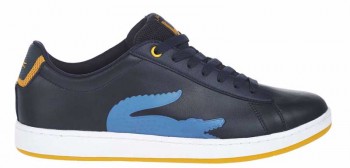 MILAN, Apr 1, 2014/ — Synonymous with sportive attitude and timeless elegance, Lacoste presents its Fall 2014 footwear collection styled with urban chic in mind.
Practical yet elegant, the Lacoste Fall 2014 shoes collection exhibits a contemporary flair that complements the modern man's wardrobe.
Using cutting edge material combined with classic leather, the collection has a very metropolitan mood that has a nonchalant attitude. That offhand attitude is emphasized by the chromatic color choices – warm tones with a flash of LED shades.
Photos courtesy of LACOSTE