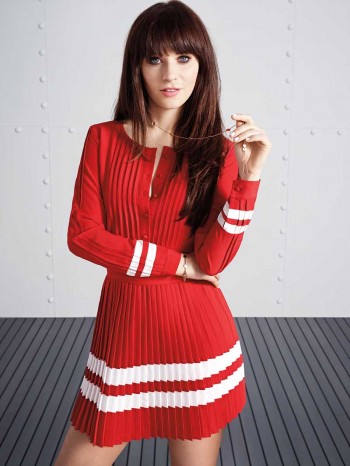 NEW YORK, Apr 20, 2014/ — Just in time for the upcoming warm weather, Tommy Hilfiger launches "To Tommy, From Zooey"- a capsule collection of dresses designed in collaboration with Zooey Deschanel.
To be sold exclusively at Macy's and macy's.com, "To Tommy, From Zooey," is a spirited collection in a signature Tommy palette of red, white and blue with Zooey's signature quirkiness.
The flattering silhouettes range from classic coat and shirtdresses to specialty peek-a-boo styles, with prints hidden inside the pleats. Crisp, mod-shapes are combined with nautical touches—creating a look Deschanel calls "Modical."
Bright and upbeat, "To Tommy, From Zooey," captures the buoyant attitude of the sixties, the decade in which Hilfiger made his fashion debut and from which Deschanel borrows her doe-eyed look.
The "To Tommy, From Zooey" collection at Macy's includes a selection of 14 dresses that range in price from $98 to $199. The capsule collection will be available in 200 Macy's stores as well as macys.com.