POLOGEORGIS Furs, a New York City based furrier founded by Stanley Pologeorgis in 1960, is known for its tradition of quality and unparalleled craftsmanship.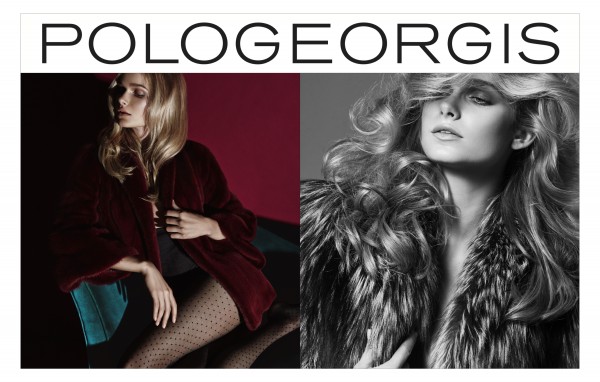 POLOGEORGIS Furs has been a pioneer in forging relationships between fashion designers and the fur industry. The first collection of furs was designed by Pierre Balmain in the 1970s, since then, Pologeorgis has collaborated with numerous renown fashion labels including Michael Kors, Derek Lam and Zac Posen. Stanley Pologeorgis passed on his extensive knowledge of manufacturing and buying of fur to his son Nick, who joined POLOGEORGIS Furs in 1984.
With over 50 years of experience, POLOGEORGIS is committed to researching new furs, developing innovative techniques and collaborating with designers to make fur modern and wearable. Each collection is positioned in the highest end of the luxury market and is comprised of the finest quality furs, including minks, sables, broadtails, chinchillas, and shearlings from around the world.
What is the story behind the POLOGEORGIS Furs brand?
POLOGEORGIS, a family-owned company founded in 1960 with a prestigious reputation for producing furs utilizing the world's finest pelts and innovative technology, was a pioneer in forging relationships with celebrated fashion houses around the globe, collaborating with designers to create fur collections of unparalleled quality and design. Today our atelier, housed on two floors in a loft building in New York City, produces pieces for eponymous fashion labels including Michael Kors, Monique Lhuillier, and Zac Posen amongst others along with our popular signature label and the hallmark of Pologeorgis: handmade couture garments.
For the POLOGEORGIS fall/winter 2015 collection, what was the design aesthetic and inspiration for the collection?
The POLOGEORGIS FW15 collection has a perennially cool, downtown edge yet urbane and polished feminine aesthetic. It was inspired by a youthful interpretation of reinvented classic silhouettes.
What are the types of pieces and hues in the POLOGEORGIS fall/winter 2015 collection?
Mink, fox, and lamb with stylishly subtle accents of exceptionally soft cashmere, wool blends and buttery natural grain leather are woven throughout the Pologeorgis FW15 collection. Wintry shades of graphite and gunmetal punctuate a modern color palate. Silhouettes range from a cropped bomber jacket to playful vests ideal for layering to long coats with an avant-garde edge.
What are some of the top-selling pieces for the POLOGEORGIS FURS brand?
Our Expedition Collection, including our first unisex coat, features essential and practical staples of any winter wardrobe. Expertly constructed with precision tailoring these pieces are perfect when dipping temperatures, requiring smart outerwear, usher in unpredictable, colder weather. Our cowls, infinity scarves, and fingerless gloves are must-have accessories and perfect pieces to be well dressed in any climate.
With the launch of the POLOGEORGIS Furs e-commerce website,www.POLOGEORGIS.com this fall, what experience will the e-commerce site offer to its customers?
POLOGEORGIS' e-commerce site will provide the same impeccable service offered at our Midtown Manhattan salon in New York City.
What is next for the POLOGEORGIS Furs brand?
In the 21st century POLOGEORGIS continues to redefine the world of fur and luxury outerwear. An expanded FW16 collection is underway and promises fashion forward twists with a discerning balance of sophistication and nonchalance.
For more information on POLOGEORGIS Furs, please visit www.POLOGEORGIS.com. Follow POLOGEORGIS on Facebook, Twitter and Instagram at @POLOGEORGIS.
Photos Courtesy of POLOGEORGIS Furs
[DARBY RADCLIFF]