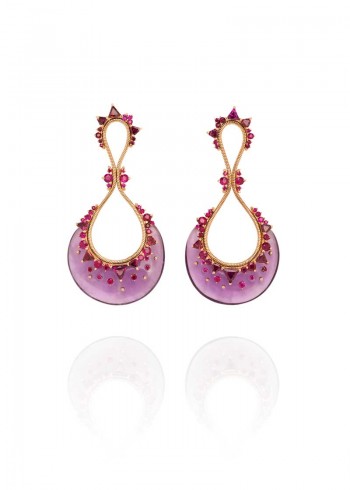 Brazilian born jewellery designer Fernando Jorge takes inspiration from the laidback attitude and effortless sensuality of his home country. Initially studying in Sao Paulo, he worked in key design roles within several Brazilian jewellery labels.
He later relocated to London to pursue an MA in Jewellery Design at Central Saint Martins, presenting his first collection in 2010. His organic shapes and fluid lines are inherently Brazilian, and result in ambiguously provocative and elegant pieces.
Fernando's use of uniquely cut Brazilian gemstones, often overlooked natively due to their abundance, has become a trademark of his work. This expertise resulted in a collaboration with Gemfields, the world's leading coloured gemstone producer. One of 37 chosen to create a unique piece of jewellery, he looked to his "Electric" collection to inspire a pair of earrings which embody his fine yet sculptural signature.
He was also selected as one of the 12 Rock Vault designers, exhibiting his collections during London Fashion Week. The International Palladium Board, then sponsors of Rock Vault, selected Jorge to design a capsule collection in the precious metal as part of their "Palladium Visions" project.
Fernando has gained an international media following and is widely considered to be amongst the brightest emerging talents in the world of jewellery design. His collections are sold at Matches and Browns in UK, Montaigne Market in France, Barneys New York in the US and most recently, luxury e-tailer Net-a-Porter.