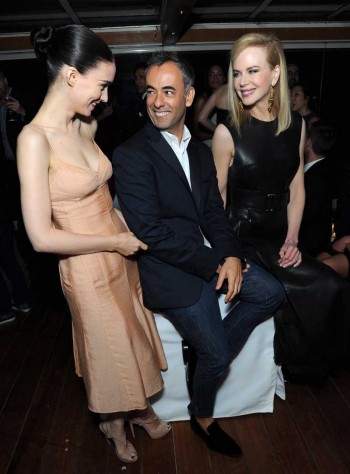 NEW YORK, May 7, 2014/ — Yes, it's that time of year again. Next week, the 67th Cannes Film Festival begins, which also marks the fourth annual WOMEN IN FILM event which will be held at a private villa on Thursday, May 15, 2014.
Hosted by the Independent Filmmaker Project (IFP), Calvin Klein Collection and Euphoria Calvin Klein, the invitation-only event draws influential members of the fashion, film and beauty worlds to recognize notable women who have made an impact on film that year.
With Joana Vicente, Executive Director of IFP, and Francisco Costa, Women's Creative Director of Calvin Klein Collection heading the celebration, this year's Women in Film event will celebrate Naomi Watts, Lupita Nyong'o, Julianne Moore and Rooney Mara, who is the face of the DOWNTOWN Calvin Klein fragrance.
Last year's event celebrated Nicole Kidman, Carey Mulligan, Naomie Harris, Lynne Ramsay and Ms. Mara, who joined a distinguished group of women previously celebrated since the inception of the event, including Uma Thurman, Diane Kruger, Rosario Dawson, Jessica Chastain, Shailene Woodley and Clémence Poésy.
Additionally, the exclusive event continues the partnership between IFP and euphoria Calvin Klein to support women in film with the euphoria Calvin Klein Spotlight on Women Filmmakers "Live the Dream" grant. The third annual award for an alumnus of IFP's Independent Filmmaker Labs was presented during the Gotham Independent Film Awards in December 2013 to Gita Pullapilly, the director of Beneath the Harvest Sky.
Photographer, blogger, and model Hanneli Mustaparta, who is a contributor to Calvin Klein's official social media platforms, will be on hand to cover the event.
EDITORIAL CREDIT: IFP (Independent Filmmaker Project), Calvin Klein Collection and euphoria Calvin Klein Celebrate Women in Film
IMAGE CREDIT – 2013 EVENT: © 2013 Michael Bowles