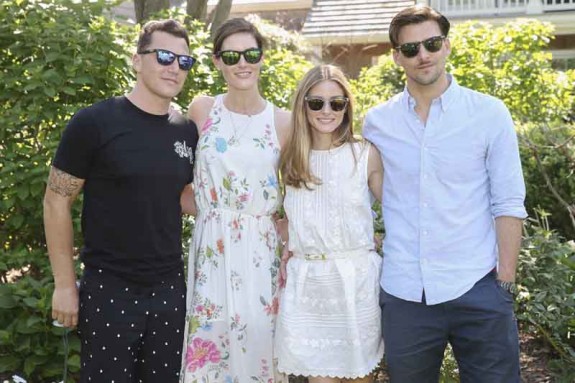 NEW YORK, Jun 8, 2014/ — You know its summer when the glitterati start flocking to the Hamptons. And, yesterday, Olivia Palermo, Johannes Huebl, Hilary Rhoda, and Sean Avery were spotted at the first annual Solid & Striped First Annual BBQ and Pool Party!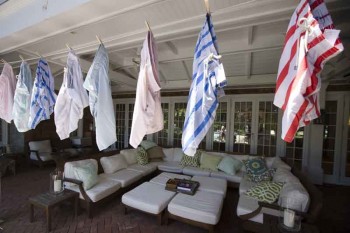 Launched in November 2012, Solid & Striped is relatively a newcomer in the swimwear and resortwear category but its elegant simplicity has made it a hit among the fashion set.
So, it's not surprising that when it held its first ever Summer BBQ and Pool Party at the Southampton estate of brand investor J. Christopher Burch friends of the brand joined the poolside soiree.
Noteworthy attendees are newly engaged couple Olivia Palermo and fiancé Johannes Huebl who chatted throughout the afternoon with friends including model Hilary Rhoda and fiancé Sean Avery, taking Instagram photobooth pictures and lounging in the sun.
Rhoda wore Westward Leaning sunglasses, a brand that Palermo recently launched a collaboration with.
Guests enjoyed a classic barbeque menu including hamburgers, hotdogs, and corn on the cob from BLT who recently opened a Southampton location.
Attendees including the brand's founder Isaac Ross along with designers Timo Weiland and Jodie Snyder Morel (of Dannijo), restaurateur Kyle Hotchkiss Carone and stylist J. Logan Horne strolled the grounds of the estate playing tennis, bocce ball, and ping pong wearing Solid & Striped bathing suits.
Guests refreshed with Heineken beers, Bertaud Belieu rosé, and Ciroc specialty cocktails while dancing to tunes by DJ Brendan Fallis.
Photos by: John Minchillo for AP/Invision, courtesy of Solid & Striped