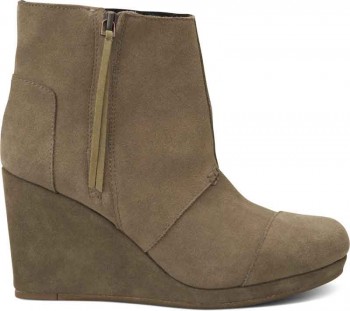 With the National Retail Federation (NRF) projection of $26.5 billion to be spent by consumers for back-to-school (BTS) shopping, a breakdown of the data revealed that $4.936 billion will be spent in shoes!
And as seen recent years, early-bird shoppers are once again leading the charge for school shopping; and this year, tweens and millennials are expected to play a big role in BTS shopping.
There's no question that today's millennial high school students are unique in many ways, and when it comes to shopping, these kids want to make sure they are a part of their parents' buying decisions.
According to NRF's 2014 Back-to-School Survey conducted by Prosper Insights & Analytics, the average family with children in grades K-12 will spend $669.28 on apparel, shoes, supplies and electronics. $134.51 of the $669.28 average will be spent in shoes!
Responding to the needs of its market, TOMS Shoes unveiled its Fall 2014 collection geared towards back-to-school and back-to-college consumers.
TOMS Shoes Mary Jane, Bimini, Paseo-Mid, Paseo and Earthwise Classic will appeal to the fashion conscious kids and tweens.
For teens and the college-bound, TOMS proposes the Brogue, Earthwise Classic, Seasonal Classic, Searcher Boot, Chukka Boot, Cordones, Sabado, Paseo Mid, Paseo and Campus Classics with their authentic officially licensed school colors.
For the hallway fashionistas and the college coeds, TOMS sees them in Desert Wedge, Platform Wedge, Correa Sandal, Playa Sandal, Ballet Flat, Paseo, Earthwise Classic, Seasonal classic, Alpa boot, Jutti flat, Cordones and Campus Classics with their authentic officially licensed school colors.
Says Prosper Insights Consumer Insights Director Pam Goodfellow, "Students will make sure to keep one eye on social media and the other on retailers' websites as they seek out what's new and exciting in their hunt for fresh, fashionable and relevant back-to-school gear."
Planned BTS Spending – By Category In Billions
Charts from the NRF Foundation's Retail Insight Center. To access this data and more research please visit the Retail Insight Center.