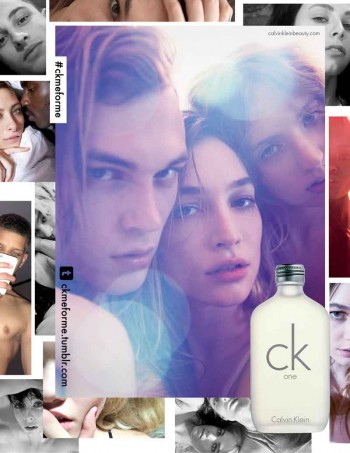 NEW YORK, Jul 1, 2014/ — Debuting this month, the new global campaign for ck one fragrance celebrates the 20th anniversary of the iconic, original unisex fragrance, while reflecting the cultural significance of individuality, self-expression and digital identity.
Shot on location in New York by famed photographer Mario Sorrenti, the new ck one campaign stays true to the brand's heritage of featuring emerging talent with a diverse cast of models, artists and musicians.
The talent includes singer/songwriter Dev Hynes and his girlfriend, singer Samantha Urbani; sister musicians Say Lou Lou; electro-pop singer Kelela; electronic artist and producer Evian Christ; Korean pop star Taeyang; singer and actress Soko; artist Ally Marzella; fashion photographer Michael Bailey Gates; photographer and fashion designer Petra Collins; and models Edie Campbell, Stephan James, Chuck, Ali Michael, Jing Wen, Justin Gerard, Lucky Blue, Maggie Laine, Marcel Castenmiller and Victor Correia.
Music has always been a key component of past ck one advertising campaigns and initiatives, and that tradition is continued in the new campaign. In addition to counting eight up-and-coming musicians as a part of the new cast, the TV spot features an exclusive demo produced by electronic artist and producer Evian Christ.
Said Steve Shiffman, Chief Executive Officer, Calvin Klein, Inc., "The new advertising campaign represents a new chapter in the iconic ck one franchise. The print and video creative celebrates the legacy of the original campaign, embodying the diverse individuality of today's youth."
Shot from the perspective of a camera phone, the new ck one advertising campaign illustrates the modern practice of using digital identities to connect with others and to convey individuality. The television campaign makes a private world public by following the evolving stories of the cast as they find ways to express themselves digitally. The print campaign features the outcome of this self-exploration through a collage of self-portraits.
The digital strategy for this launch will focus on global Snapchat – the first time the brand has used this platform – and Tumblr accounts, through which consumers will discover the ck one campaign talent via content that features a journey of self-exploration from the cast on set of the advertising campaign shoot.
On Tumblr, a dedicated blog will live at ckmeforme.tumblr.com where hundreds of digital assets from the shoot will be aggregated with the #ckmeforme hash tag alongside discovered content from other communities in line with the ck one point of view.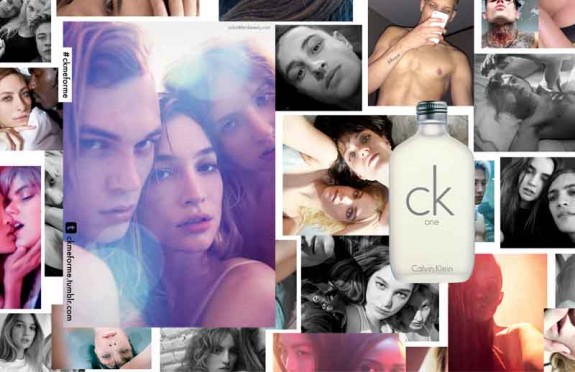 EDITORIAL CREDIT: ck one
IMAGE CREDIT: © 2014 Mario Sorrenti