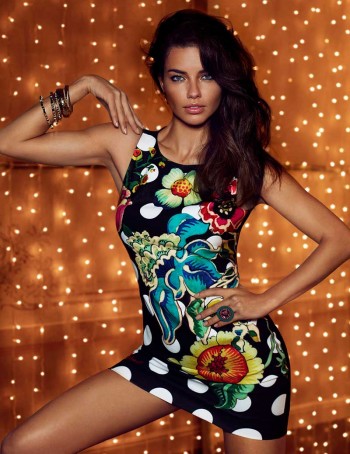 NEW YORK, Jul 8, 2014/ — On June 30th, on the stage of 080 Barcelona Fashion, Desigual presented its new Fall-Winter 2014 campaign, accompanied by Adriana Lima, the brand's current ambassador.
The purpose of the "La Vida es Chula by Adriana Lima" campaign is to tell the world about the brand's philosophy. It will launch in July with images from the new collection and will culminate with several TV ads during the season where the model will tell us in her own words what the Desigual slogan means to her.
Desigual is launching a new concept "La vida es chula by" where a number of individuals will tell their story about why "la vida es chula" for them…shifting the focus onto the people so that they too can reflect on why they believe "life is cool."
Adriana Lima, apart from being one of the most recognized faces on the international catwalks, is a mother of two daughters whose vitality and optimistic attitude go hand in hand with Desigual's personality.
For the photo shoot, the fashion brand has chosen the Spanish city of Barcelona as the location and the renowned photographer Miguel Reveriego to bring out the model's natural and sexy side wearing the newest pieces from next season's collection.