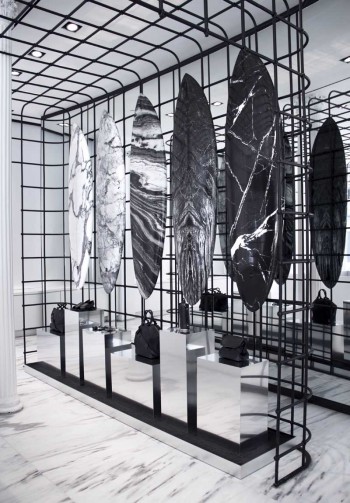 NEW YORK, Jul 30, 2014/ — To fashionistas, Alexander Wang does not an introduction and it looks like surfers it's going to be that way with surfers!
Collaborating with leading Australian surfboard brand Haydenshapes, the famous CAGE at the Alexander Wang flagship at 103 Grand Street is currently the home of five marble print surfboards which was exclusively created by Haydenshapes founder, Hayden Cox who personally crafted each limited edition surfboard by hand for the installation.
The marble boards, typical for Wang's aesthetic, are suspended from the cage wall, while a monolithic, large black wave sculpted from black sand looms occupies the space.
The installation stemmed from the idea of developing a high-end surfboard as a visual art piece for the Cage, while maintaining a superior level of innovation, performance and authenticity. The marble artwork was co-developed by Wang and Haydenshapes for this limited series.
Photographs of unique marble slabs were digitally printed onto silk, then onto the boards, to create one of a kind design for the Cage. The surfboards are the award winning Haydenshapes Hypto Krypto model, which was recently awarded 'Surfboard of the Year' by the Australian Surf and Board Sports Industry Association.
Information on the project and surfboards can be found at both www.alexanderwang.com and
www.haydenshapes.com.
Summer 2014 Cage Installation
August 2014
Alexander Wang at 103 Grand Street
[KRISTINA FE]