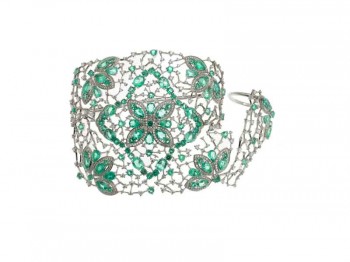 PARIS, Jul 8, 2014/ — Worn by celebrities such as Sarah Jessica Parker, Joan Smalls, and Salma Hayek, GAYDAMAK was founded by sisters and world travelers Sonia & Katia Gaydamak.
The two have spent their lives venturing to different parts of the globe, learning about gemology and design sourcing their materials from Israel, Asia, and New York.
Their new capsule collection features nine extraordinary handcrafted pieces from signature hand bracelets to delicately intricate earrings.
Taking inspiration from ancient books and fabrics, each piece in the line represents a significant time of travel in their life – spanning over years of their creative journey.
The innovative fine jewelry pieces feature precious metals, colored diamonds and gems, to create elaborate knots, lace and complex shapes. The capsule features the launch of their 'hand glove', which fits around the palm and thumb of a hand.