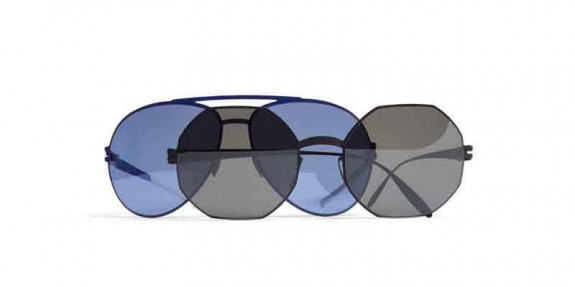 BERLIN, Jul 15, 2014/ — Through the collaboration with Bernhard Wilhelm a new shape is inaugurated into the MYKITA collection: The spirited and eccentric octagon!
A shape traditionally occurring in smaller frame dimensions, the octagonal silhouette of URSULA is blown out of proportion.
Like sister hippie-esque model JANIS, URSULA features sleek details — the temples as well as the nose pads are not treated or coated. The continued use of this reduced concept streamlines the frame, and the radical lens shape takes centre stage.
Equally extraordinary, ERWIN draws on an amalgamation of personas. Start with aviators that the Los Angeles Highway Patrol wore in the 70s, add The Village People, mix in a kinky Casanova = ERWIN.
The most vivid and striking element of the frame is the overdrawn caricature found in the excessively drooping lens. Contrast the shape with the flamboyant colour scheme — especially with the new colours International Blue and Sulfur — which breaks the image of pure coolness and catapults ERWIN into irony.
The shape sits on a pedestal as a graphic restatement of an already macho and exaggerated personality.