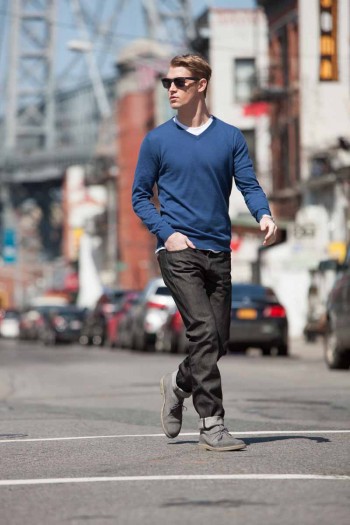 LOS ANGELES, Aug 7, 2014/ — Known for its tighter and denser weave, the Japanese Raw Selvedge denim is a jeans' lover's dream. And this summer, Combatant Gentlemen (www.combatgent.com) released its highly anticipated Raw Japanese Selvedge Denim line, making available a selection of high quality denim for almost a fraction of the market price.
As most denim fans know, a pair of Raw Japanese Selvedge Denim ranges from $150 – $270. Staying true to its core mission of cutting out both middlemen and markups to pass the savings along to their customers, Combatant Gentleman is offering their Japanese Selvedge Denim for only $70.
How does Combatant Gentlemen do it? By sourcing cotton in Northern Japan, producing denim and dying rope at a 70 year old mill in Southern Japan and crafting the jeans at established assembly facilities in Los Angeles! Combatant Gentlemen's vertical integration allows them to produce high-quality denim at a lower cost.
Available for purchase at Combatant Gentlemen's online store, the new Raw Japanese Selvedge Denim line focuses on classic and timeless styles that are both durable and unique.
Combatant Gentlemen's line of Raw Japanese Selvedge Denim has a tighter and denser weave than non-selvedge and stays away from distressed denim and washes, making it both highly durable and appropriate for both casual and professional environments.
Additionally, the denim is minimally processed — all-natural rope dye is used in lieu of chemical dyes, no harsh chemicals are used during finishing, and the denim is unsanforized.
Available in both slim and slim-straight styles, the jeans run in 34" inseams, with available waist sizes from 28-40, and will be available in indigo, black, and grey.