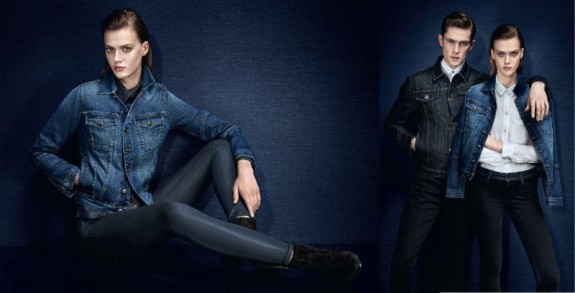 NEW YORK, Aug 5, 2014/ — With the goal of "redefining denim as a utility with new intelligent denim treatment," DL1961 Premium Denim unveiled with Fall/Winter 2014 campaign that captures the premium, effortless yet signature style that DL1961 has become known for.
Shot against a denim backdrop by fashion photographer Sharif Hamza, and styled by Tom Van Dorpe, the campaign features models Tess Hellfeuer and Mathias Lauridsen, and highlights fresh, modern looks of head-to-toe denim. From dark, clean lines to sleek, buttoned-up styling, the campaign is a major departure from anything the brand has done before.
"This season we wanted to create a collection that represents the technological nature and sleekness of our denim," said Sarah Ahmed, DL1961's Creative Director.
DL1961 provides denim that doubles as a utility, designed in both fit and fabrication to out-perform any other garment in your closet.
For fall, DL1961's revolutionary DLX and dlpro technologies are interpreted in refined silhouettes and textiles. The brand also introduces Intelligent Denim, a treatment powered by SILVADUR, which protects denim from odor-causing bacteria, allowing for fewer washes.
The brand prides itself on its revolutionary fabrics and how they are engineered, such as their original XFIT four-way stretch, which is crafted by wrapping cotton fibers with Lycra and then using a cross-weave technology to create a breathable fabric, which instantly slims, tones and contours the body.
Following the Spring/Summer 2014 launch of the women's Florence Instasculpt fit, a style that promises to micro-sculpt your legs, butt and mid-section, the brand's bestseller returns in twenty-three new, exclusive washes. The slenderizing fit will feature coated styles and, for the first time, incorporate laser-printing technology to create plaid and camouflage-printed denim ($188).
Showcased throughout the campaign are classic and novelty styles for women, including the Emma legging in Italian suede and embossed leather snakeskin ($374), Amanda two-tone skinny jean in Oklahoma ($178), Riley selvage mimicking boyfriend jean and River low-rise coated skinny with moto-inspired leather quilting ($268). DL1961 builds its ready-to-wear offerings to include denim jackets and shirts with pony hair paneling, in addition to the expansion of their Tomboy Collection of boxy chambray tops and button downs ($148-$245).
For men, DL1961 extends its Performance Denim collection with the introduction of twills in a muted color palate, including forest greens and mustard, designed to keep up with those living active lifestyles. Key styles, include the Russell slim straight jean ($168), Mason slouchy slim jean ($168) and the Nick slim fit ($168), all allowing four-way stretch and 360-degree movement. DL1961 also continues its denim jackets for men ($198).
DL1961 is available online at www.DL1961.com and at specialty stores worldwide, including Bloomingdale's, Neiman Marcus, Nordstrom and Saks Fifth Avenue.
Prices range from $158-$188 for women's and men's core styles and $178-$748 for novelty pieces.
The campaign will kick off with advertising in the August issues of national magazines including ELLE, InStyle, Lucky and People StyleWatch.