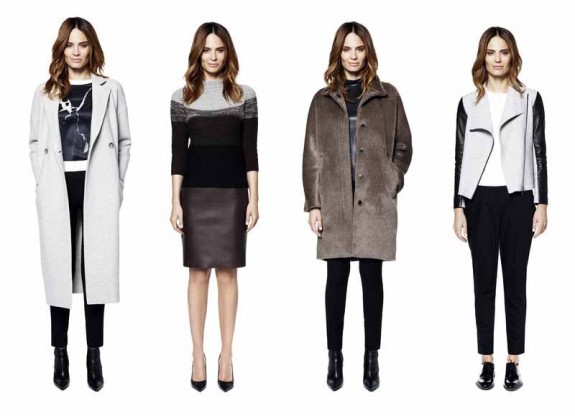 MONTRÉAL, Aug 13, 2014/ — Inspired by strong urban architecture set against nature's softened textures and colour palette, the Judith & Charles Fall 2014 collection offers an array of inspiring pieces to discover.
From the geometric, and at times even rigid architectural shapes, Creative Director Judith Richardson softened them in part by making horizontal lines to appear woven through ombré monochromatic sweaters, tweed bouclé, and Prince de Galles plaid, while the modern cuts and angles evoke city skylines throughout the collection's design.
The season also features luxury fabrics such as alpaca, cashmere, silk and pony hair, impeccably finishing the collection's key outerwear pieces, along with opulent staples such as silk and a wealth of leather, both sourced directly from Italy by founders Judith Richardson and Charles Le Pierrès.
Sophisticated tailoring generates silhouettes that call to mind classic couture contours, boasting round shoulders and peplums. Other styles found in the collection include polished shift dresses, mock turtlenecks and hounds-tooth motifs, all traceable to 1960s mod influences.
A refreshing monochromatic palette of winter-white, black, and grey is a hallmark of the brand's minimalistic approach to styling. Touches of rich pomegranate, Baltic blue and the introduction of pale haze, a serene smokey lilac hue, add subtle femininity to the collection's muted palette.
Signaling the maturity and sleek creations the brand is renowned for, each style may be worn to meetings, evenings dining out with friends, and just as easily packable for trips out of the city. This season Judith & Charles introduces a new stable of versatile, fundamental pieces envisioned and beautifully executed with the modern woman in mind.