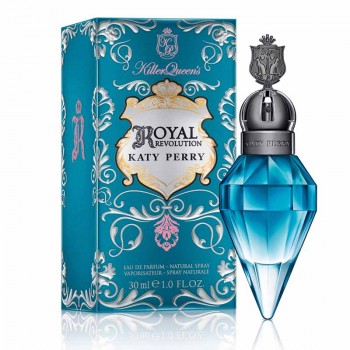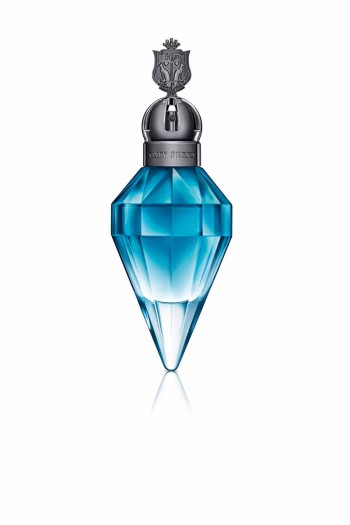 NEW YORK, Aug. 21, 2014 / — Dubbed as "a fragrance that is as beautiful as it is bold, as royal as it is rebellious," Killer Queen's Royal Revolution by Katy Perry has all the qualities of the rocker's unconventional artistic vision.
"In some ways wearing fragrance is like putting on an invisible suit of luxurious armor. I want Royal Revolution to inspire women to make their own rules and embrace the idea that beauty and inner confidence can come together to become your secret weapon," says Katy Perry
Katy Perry doesn't break the rules; she makes the rules. And thus, this Killer Queen is destined to lead a Royal Revolution. Ah, the scent of victory!
The Fragrance
Created by Pierre Negrin of Firmenich, Royal Revolution, a tempting and irresistible floral, conquers at first breath.
Tantalizing top notes of pink freesia kissed by the nectar of ruby-red pomegranate captivate the senses. Middle notes of sandalwood balanced with sheer orange flower and velvety jasmine petals create a soft, delicate floral heart guarded by the Mystical Blackthorn. Sexy musk and soft vanilla orchid linger on the skin, ensuring an unrivaled and unforgettable dry-down.
Known in the Dark Ages for its magical powers and used in spells of impenetrable protection, the Mystical Blackthorn epitomizes the balance of feminine beauty and wild rebellion with its delicate white flowers protected by its prickly ebony bark.
Top Notes: Pink Freesia; Black Thorn; Pomegranate
Middle Notes: Sandalwood, Orange Flower, Jasmine Petals
Base Notes: Soft Leather, Skin Musk, Vanilla Orchid
The Bottle
Inspired by the beauty, strength and intensity of a royal sapphire the bottle mesmerizes with multiple facets and brilliant shades of blue. The cap in an armor inspired gun-metal tone portrays fearless courage while showcasing Katy Perry's custom royal crest.
The Advertising Campaign
Photographed by Tim Walker, the Royal Revolution print campaign is the embodiment of bold beauty and effortless conviction. True to Katy Perry's rebellious spirit, the campaign features Katy in a modern military ensemble leaning triumphantly against an armor conveying composed confidence and nonchalant valor.
Available at fine retailers nationwide
The Collection*
Royal Revolution Eau de Parfum 3.4oz EDP $59
Royal Revolution Eau de Parfum 1.7oz EDP $49
Royal Revolution Ancillary 6.7oz Body Lotion $25