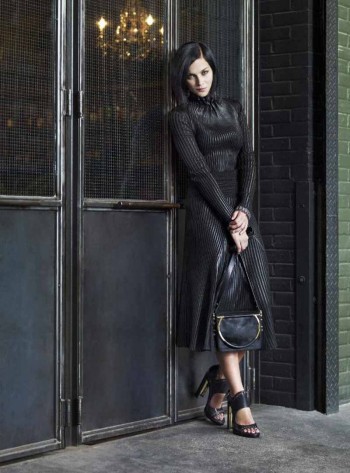 NEW YORK, Aug 5, 2014/ — Featuring its Fall/Winter 2014-2015 Women's Runway Collection, the Salvatore Ferragamo goes live today at www.Trunkshow.Ferragamo.com.
With cast Leigh Lezark, Alexandra Richards, Genevieve Jones, and Princess Melusine Ruspoli, the Florentine fashion house brings together four very different women with inherently chic style that uniquely represents today's Ferragamo female.
The nightlife DJ, effortless rock heiress, eclectic downtown artist, and European royalty share personal anecdotes and photos that exude their distinctive personalities and individual spins on where they'll be wearing Massimiliano Giornetti's women's runway collection, which includes strong coats, architecturally designed capes and small blousons with sculptural necklines, lightly ribbed and treated knit dresses and thick mohair sweaters.
The jewels – incorporating alchemical scarabs – summarize the transforming character of the collection in fantastic hybrids of organic and mineral nature.
The color palette is pulp, melting: an investigation of black, coffee brown, chocolate, sand and camel are mixed with brick red, amber grey with accents of bronze. Tall boots and high crocodile leather heeled shoes entertain uneven color effects and golden inlayed eyelets, highly designed handles on crocodile or Persian fur shoppers and metallic handles on elongated doctor bags.
"I tend to like wearing neutral colors for fall and love the tall black boots for the unpredictable wintry days," says Alexandra Richards of the palette and boot of the season.
"Luxurious materials, energy contained by the precision of fine tailoring," reflects Creative Director, Massimiliano Giornetti, "these defining elements of the Ferragamo codes embody the Fall Winter collection."
This launch marks the only opportunity to purchase the RTW collection via e-commerce which will be available for pre-order on the site for a limited time period. The trunk show will offer a range of head-to-toe runway looks from the Fall Winter runway collection including clothing, shoes, jewelry and handbags including the new house icon Fiamma.
Salvatore Ferragamo Women's Fall Winter 2014 Digital Trunk Show