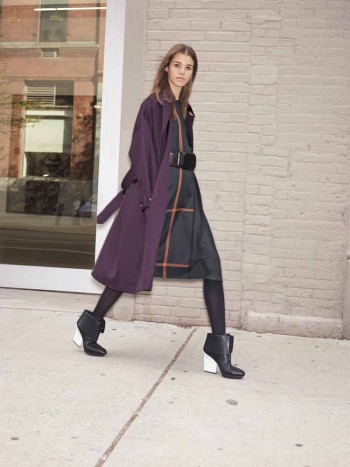 DALLAS, Aug 6, 2014/ — As the weather starts to change, trade in summer's sundresses for something a little more considered, substantial, and warm.
Trending for Fall 2014 is the Left-Bank Luxe, the fanciest of fall's trends combines the menswear styles you love with the feminine jewel-tones and silhouettes you've come to live by for artful combinations reminiscent of Paris in the 1970s.
The key to mastering the Left-Bank Look, is sticking to three pieces: one menswear-inspired, one feminine to the core, and one super-luxe.
Combine a masculine trench coat in a deep plum hue with a satin-embellished sleeveless sheath and an oversized lambskin belt for an easy intro to a look you'll see all season long.
3.1 Phillip Lim Oversized Trench Coat, $1,175; Dress, $750; Lambskin Belt, $375 (Available at Nordstrom)
Seeking something a little less ladylike? Try tuxedo-style leggings with just a touch of lambskin paired with a subtly feminine sheer jacquard blouse. Your fancy piece: an oversized alpaca coat in dark emerald.
Burberry London Oversized Alpaca/Wool Coat, $1,995; Sheer Jacquard Blouse, $575;
Tuxedo Lambskin-Panel Leggings, $450 (Available at Nordstrom)
Want to try the look with just one piece? Make it your handbag. A leather and calf hair
tote in black and forest green hits all the right marks.
Loeffler Randall Work Tote, $695 (Available at Nordstrom)