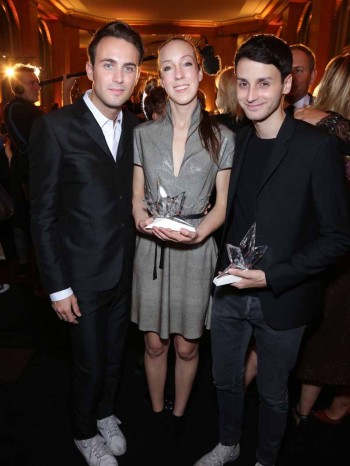 PARIS, Sep 27, 2014/ — Last night at the Hotel Potocki in Paris, Madame Nadja Swarovski and Monsieur Pierre Bergé hosted a private dinner to celebrate ANDAM's 25th anniversary in presence of the French Ministry of Culture and Communication, Madame Fleur Pellerin, Madame Nathalie Dufour and Monsieur François-Henri Pinault.
Honored last evening were ANDAM Grand Prize winner, Iris Van Herpen and First Collections Prize winner Coperni Femme.
François-Henri Pinault, who is a member of the jury, comments, "It was a truely enriching experience to be part of the 2014 ANDAM Fashion Award jury, and a great time to be in the company of the other jury members."
"I was surprised by the maturity of the candidates, but also by their fresh perspective. I am very proud to be the mentor of this rich and diverse edition. Fashion needs these initiatives to give a chance to new talents," Monsieur Pinault added.
Accepting the ANDAM Grand Prize purse of 250,000 euros ($342,000), Iris Van Herpen said, "I am incredibly honored to win the ANDAM Fashion Award. Paris has a special place in my heart as it is the city that welcomed my first creations."
"The recognition of such an impressive jury is the best encouragement I could get for my upcoming projects especially considering the amount of great talent presented today. All my thanks to the jury, the ANDAM organization and my team," Miss Van Herpen added.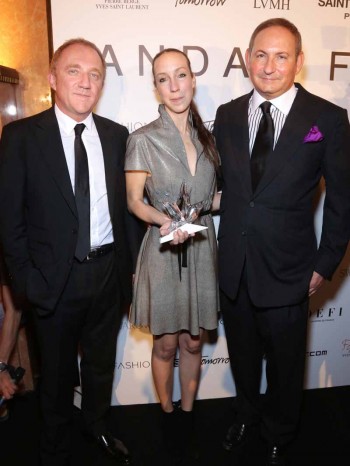 A 2006 graduate of the Art Institute of Arnhem ArtEZ, Iris Van Herpen started by working for Alexander McQueen in London and went on to present her first collection in 2007 in Amsterdam.
Thanks to her cutting-edge approach to creation, she was integrated into the official calendar of France's Chambre Syndicale de la Haute Couture in 2011. In March 2013, she launched her first ready-to-wear collection during Paris Fashion Week.
The First Collections Prize of 75,000 euros ($103,000) has been granted to Sébastien Meyer and Arnaud Vaillant, the design duo behind the label Coperni Femme.
"We can't believe how lucky we are. This is the beginning of something great, of something real. We would like to thank the jury for this great opportunity which will strongly contribute to our brand development," said Meyer and Vaillant.
Sébastien Meyer and Arnaud Vaillant met in 2009 in their fashion school, Mod'Art International, in Paris where Sébastien is learning fashion design whereas Arnaud studies fashion business.
Their collaboration will enable many rewards, among them the 1st Prize PODIUM Young Stylist 2009 & 1st Prize Mod'Art International 2010. After experiences in France, United States and China, Sébastien decides to create COPERNI FEMME in 2013 with Arnaud's support who pursues simultaneously his path at Balenciaga. They presented their first capsule collection in September 2013.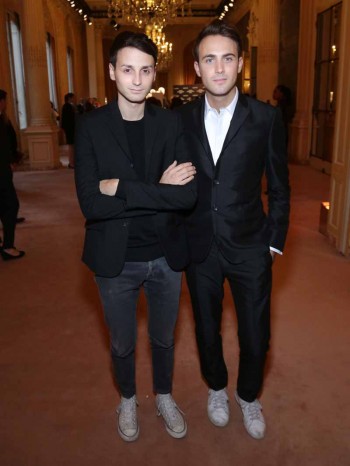 Notable attendees to the private dinner are: François-Henri Pinault, Pierre Bergé, Fleur Pellerin, Nadja Swarovski, Markus Langes-Swarovski, Nathalie Dufour, John Demsey, Pierre-Yves Roussel, Bruno Pavlovsky, Renzo Rosso, Ralph Toledano, Francesca Bellettini, Iris Van Herpen, Arnaud Vailland & Sebastien Meyer (Coperni), Mario Testino, Anthony Vaccarello, Alexandre Mattiussi, Alexis Mabille, Felipe Oliveira Baptista, Mary Katrantzou, Gareth Pugh, Nathalie Rykiel, Nicola Andreas Taralis, Gaia Repossi, Miroslava Duma, Liya Kebede, Aymeline Valade, Coco Rocha, Anna Cleveland, Devon Windsor, Gigi Hadid, Gaia Weiss, Tina Leung, Caroline de Maigret, Charlotte Olympia Dellal, Farida Khelfa, Elisabeth Von Thurn Und Taxis, Emmanuel Perrotin, Daria Strokous, Kati Nescher, Bruno Frisoni, Hervé van der Straeten, Pierre Hardy, Suzy Menkes, Nicole Phelps, Vanessa Friedman, Sophia Neophitou, Angelica Cheung, Alexandra Golovanoff, Mademoiselle Agnès, Audrey Marnay, Jeanne Damas, Leigh Lezark, Laure Hériard Dubreuil, Cordula Reyer, Suzanne Von Aichinger, Catherine Baba, Mia Moretti, Misty Rabbit, Yaz Bukey, Louis-Marie de Castelbajac, Loic Prigent, Jean-Jacques Picart, Pamela Golbin, Erik Halley, Jean-Pierre Blanc, Didier Grumbach, Alex de Betak, Sofia Sanchez Barrenechea, among many other guests joined the celebration.
Founded in 1989 by Nathalie Dufour, under the initiative of the French ministry of Culture and the DEFI, ANDAM (National Association for the Development of the Fashion Arts) seeks, in the words of its president M. Pierre Bergé, "to identify and support, through its awards, the emerging talents of contemporary designers and assure the role of Paris as a key fashion capital."
Composed by its partners – Fashion GPS, Pierre Bergé Yves Saint Laurent Foundation, Galeries Lafayette, Hud­son's Bay Company, Kering, Longchamp, LVMH, MAC Cosmetics, OTB, Swarovski, thecorner.com, Tomor­row London Ltd, the house of Yves Saint Laurent – and professionals from the sector, the jury members met on Thursday, July 3th to select by simple majority vote, the fellowship winners of the 2014 ANDAM Fashion Award edition.
ANDAM SPONSORS are:
FRANCESCA BELLETTINI – CEO, representing the house of Yves Saint Laurent
PIERRE BERGÉ – representing the Pierre Bergé – Yves Saint Laurent Foundation
SOPHIE DELAFONTAINE – Creative director, representing the House of Longchamp
JOHN DEMSEY – Group President, The Estee Lauder Companies Inc, representing M•A•C Cosmetics
GUILLAUME HOUZÉ – Communication and image director at Galeries Lafayette, representing Galeries Lafayette
FEDERICO MARCHETTI- Founder and CEO of YOOX Group, representing thecorner.com
STEFANO MARTINETTO – CEO, representing Tomorrow London Ltd
EDDIE MULLON – CEO, representing FASHION GPS
FRANÇOIS-HENRI PINAULT – Chairman and CEO, representing Kering Group
RENZO ROSSO – President, representing OTB
PIERRE-YVES ROUSSEL – Chairman and CEO LVMH Fashion Group, representing LVMH
NADJA SWAROVSKI – Member of the executive board, representing Swarovski
SUZANNE TIMMINS – SVP and fashion director, representing Hudson's Bay Company
INSTITUTIONAL PARTNERS include:
MINISTRY OF CULTURE AND COMMUNICATION – represented by Pierre Oudart, director in charge of the plastic arts
DEFI – represented by Clarisse Reille, managing director
FASHION PROFESSIONALS
SARAH ANDELMAN – Creative director, Colette
ANGELICA CHEUNG – Editor in chief, Vogue China
NATHALIE DUFOUR – Founder and managing director, ANDAM
PAMELA GOLBIN – Head curator, Musée des Arts Décoratifs
CAROLINE DE MAIGRET – Model
NICOLE PHELPS – Executive editor, style.com
JEAN-JACQUES PICART – Fashion and luxury products consultant
XAVIER ROMATET – CEO, Condé Nast France
ANNE-SOPHIE VON CLEAR – Deputy director, Le Figaro
ELLEN VON UNWERTH – Photographer
Photos courtesy of ANDAM