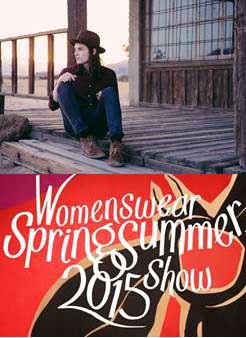 LONDON, Sep 13, 2014/ — On Monday, September 15th, at 1:00 PM (8:00 AM New York time), musician James Bay will performs live at the Burberry Prorsum Spring/Summer 2015 show.
The show will be streamed LIVE worldwide at the Burberry website and thus reaching a much wider audience than inside the official venue.
James Bay is a 23 year old singer/songwriter hailing from the small town of Hitchin in the UK. Quickly after he was first discovered he was selected as an opening act for The Rolling Stones at their Hyde Park show in 2013, a big stage for a new artist.
Bay combines British artistry, melodic truth with raw emotion in his vocals combining impeccable guitar playing to create a genuine sound. Signed to Republic Records, James Bay has become one to watch after his Let It Go EP soared into the Top 10 iTunes singer songwriter chart and his music has gone viral toping Hype Machine's popular chart twice.
Opening for Hozier on a fall U.S. tour, James Bay continues his impeccable live performance with slots this summer performing at Glastonberry, Bonnaroo, T in the Park.
Currently on tour with Hozier this fall – James has been making waves with his single "Let It Go" which has been the most Shazam'ed track in the World in REAL TIME each time it has been played on BBC 1. Since its release his Let It Go EP has been soaring up the iTunes 100 chart and debuted Top 10 on the Singer/Songwriter Chart.
More info at www.jamesbaymusic.com