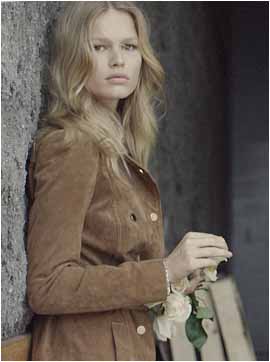 BARCELONA, Spain, Nov 18, 2014/ — In a highly anticipated announced, Spanish retailer MANGO revealed that German model Anna Ewers will be the face of its upcoming Spring/Summer 2015 campaign.
At the age of 21, this Anna Ewers has frequently appeared on international catwalks, especially since her debut as a "New Face" during the previous Autumn/Winter 2013 season.
Since then, haute couture firms have featured the face of Anna Ewers not just as a model on catwalks, but also as a star of advertising campaigns for exclusive fashion brands, photographed by acclaimed photographers.
The shoot for the new Spring/Summer 2015 campaign brought the firm and the model together in the cosmopolitan city of New York. The acclaimed fashion photographer Josh Olins was given the task of photographing Anna Ewers in the images for next season's catalogue, working alongside Sally Branka and Esther Langham, responsible for make-up and hair.
MANGO, which has counted on numerous famous faces since its early days, has added the German model to its previous collaborations with Daria Werbowy, Miranda Kerr, Penélope Cruz, Milla Jovovich and Lizzy Jagger, among others.
About her collaboration as the new face of the brand, Anna Ewers commented: "I had a really great time on set the last couple of days. It was my first time meeting the Mango team and I was very excited about it."
"I was happy that the studio was in Brooklyn, close to where I live actually, and even more happy to be shooting with Josh and Geraldine – with whom I have worked already. It is always comforting to be around people you like and know! On top of that, a couple of my German best friends work with Josh too, so it felt like home in a way," Anna concluded.
On the collection, the model commented: "I loved that the collection is in inspired by the 70s. I loved the full denim look and the little black dress. Also I really loved all the sandals. Honestly I want to wear almost everything – it was the perfect collection for me. These are clothes for the girl that I want to be. All very cool, feminine and modern. All I can say now is that I cannot wait to see my new Spanish family again and go the store next season to buy a few more things!"
Ewers will pose in this season's catalogue wearing the latest trends in the women's collection, whose styles transport us to the 70s. The silhouettes contrast with the sartorial, highlighting the tight-fitting suits and Bermuda shorts with long blazers in fabrics such as nappa.
In addition, kaftans and sheer midi-skirts impregnate this Bohemian and carefree style with brown and black tones. White approaches romanticism with lace dresses and garments, see-through and crochet.
The most energetic part of the collection is translated into pinks, reds, blues and greens, adding a touch of fantasy to knitwear fabrics with compact stripes and amusing prints.