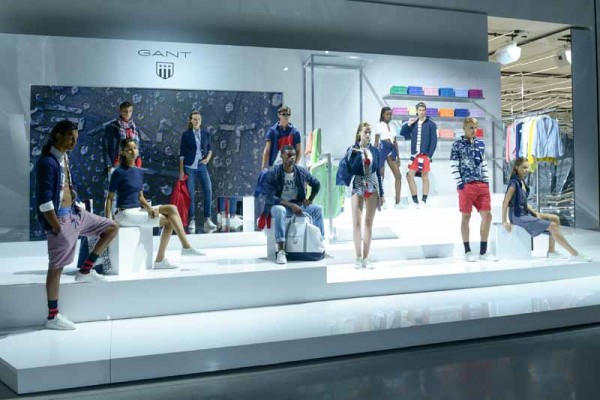 "We found our inspiration in the clean lines of the Beinecke Library, as well as the intellectual energy on campuses all over the US and the great things that come from it," commented GANT Creative Director Christopher Bastin when he unveiled the three sub brands – GANT Originals, GANT Diamond G, and GANT Rugger for Spring 2016.
GANT Originals, taking inspiration from the Yacht Club, Golf Club, and Beach Club, presents a perfect wardrobe for an outdoor lifestyle. With casual, comfortable silhouettes in bright summer colors such as orange, turquoise, and navy, all materials are kept light. Classic and sporty American Sportswear, with an added European sophistication.
GANT Diamond G, consisting of polished, modern, Ivy League inspired, trend aware pieces, is the most sophisticated of the three. With separates, sets and shirts, the boundaries between business casual and leisurewear are blurred.
Small geometrics and graphic floras in double-faced, hopsack, twill and denim are seen in shades of black and white, classic dark blue, Hamptons blue, filament orange, fragola pink, indigo and khaki. The line, which is shirt-centric, focuses on versatile tailoring, travel and a sophisticated off-duty look.
GANT Rugger, paying homage to the GANT icon is the result of a collection that breathes future and innovation more than heritage. With a variety of shirt-hybrids, box bleats and curved bottoms, hems not only on shirts but also on jackets, blazers, outerwear and dresses in blues and whites, the innovative details and silhouettes speak for themselves.
Photos courtesy of Gant