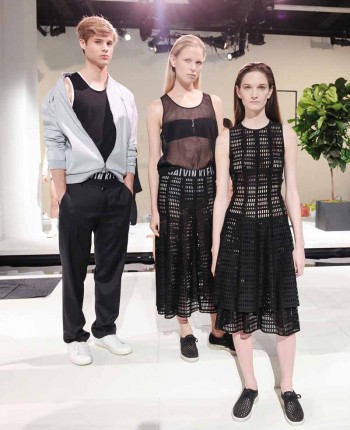 A new, urban vision. Provocative Ease. Presenting men's and women's Calvin Klein white label apparel, jeans, underwear, performance, swimwear, and accessories lines for Spring 2015. Sleek modernity collides with athleticism evoking speed and endless possibility.
Apparel. Freedom and fluidity. Laser cutting, bonding and mesh are styled with soft flowing fabrics creating a collage of strength and sophistication. Simplicity and minimalism blend with technical, high-performance sportswear enabling a modern city-to-gym lifestyle. The urban color palette consists of chalk, white and all black, featuring hints of cement and slate greys in marled and twisted sheen heathers. Vivid hues of cobalt blue and safety orange offset the monochromatic looks.
For women, outerwear inspired by soft, slouchy parkas in sporty shapes adds to the new style of street dressing. The pure graphic square builds a cohesive, repetitive detail throughout the prints and lasered neoprene. Performance detailing throughout the line allows for a clean aesthetic designed for a body in motion.
For men, tailored knit blazers are paired with full athletic wear for a refined slouchy, slim statement. Shirts and sportswear in micro geometric prints are layered with bold jacquard sweaters. Spring's athletic vibe manifests in a dynamic way with the introduction of men's Calvin Klein performance, a true fitness line featuring iconic silhouettes, casual contemporary design and innovation. Refined influences from sportswear, designed for both fit and function, the styles will integrate effortlessly into any man's wardrobe.
Photos by Kevin Tachman; courtesy of Calvin Klein White Label