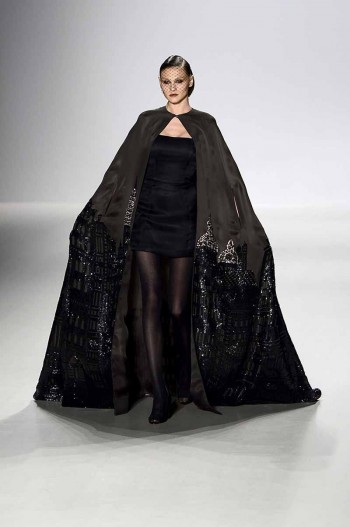 NEW YORK, Feb 18, 2015/— After his high-energy 25th Anniversary collection for Spring 2015, Zang Toi restrained his exuberance for Fall 2015 as he proposes copper-toned gowns and dresses giving a nod to the metallic trend this season.
And in this reserved mood, Zang Toi once again proved that he is a master of his craft. Playing with texture as seen in his use of micro accordion pleats and the intricate addition of gold threads in the knitted sweaters, it all became about the cut and the tailoring.
The mini dresses emphasized the waist and elongated the legs. The pants are high-waisted, tailored to slim proportions. The gowns showed off the shoulders. And the capes are the epitome of art in fashion as exemplified in be grand opera cape that featured the Venice Nightscape created in beaded black sequins and black diamonds.
Every piece was thoroughly thought off to compliment each other following the tradition of haute couture. Still, even if you decide to just purchase one of these made-to-measure frocks or pantsuit sets, you will have a timeless outfit that can stand on its own.
[MARI DAVIS]
Photos by Edward Colelli