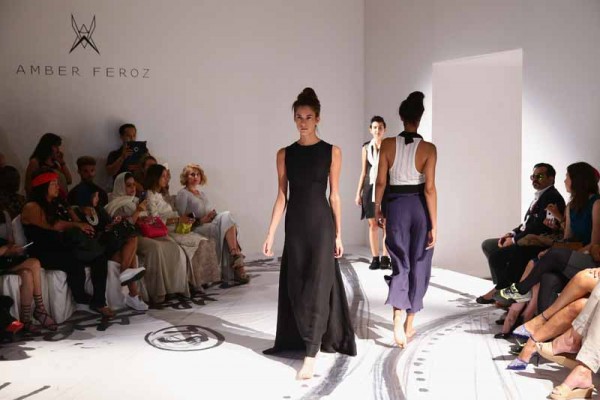 DUBAI, Apr 17, 2015/ — From Fashion Forward Dubai press notes:
Designer: Amber Feroz
Collection Name: Another Aspect
Number of pieces: 21 pcs
Materials used: Linen Silk, Leather, Tencel and model jersey, silk jacquard
Inspiration:
Another Aspect, presented at Fashion Forward for AW 2015 captures his present obsession with the falcon and the fluid geometric shapes they produce. The collection reflects, his female consumers' desire for flexibility and modernity.
Amber Feroz is a visionary designer, who crosses boundaries, playing with shape, form and structure to create intriguing yet wearable clothes. Trained in Italy, at Instituto di Moda Bourgo, Milan, he has spent eight years working in Dubai, perfecting his craft by applying his skills to daring design for ready-to- wear for both women and men, abayas, caftans and evening glamour.
Photos by Vittorio Zunino Celotto/Getty Images for Fashion Forward