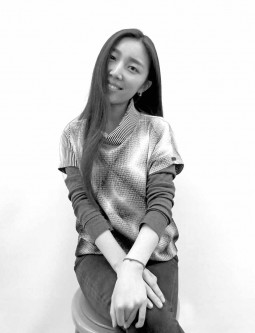 Shuman Yao, B.F.A. Fashion Design, was born in Shijiazhuang, Heibei, China and grew up in Beijing, China. A former costume designer at China's National Grand Theatre (National Center for the Performing Arts) and styling assistant at Harpers Bazaar China, Yao was also the 2009 recipient of The Central Academy of Drama's Best Fashion Make-Up Award.
Yao was awarded a spot in the 2015 Paris Sister City Scholarship Exchange at Studio Berçot in Paris, France. Yao's graduation collection, constructed from rubber polyvinyl chloride (PVC), wool cashmere, polyester and denim, is inspired by sci-fi video game Anachronox.
Yao imparted the shape of spacecrafts and the details of space suits in the collection's silhouettes, and added layer details and closures that are inspired by Saturn's rings.
The annual Academy of Art University Graduation Fashion Show was held San Francisco on May 14, 2015.
Runway Photos by Randy Brooke and Designer Portrait by Rob Curry, courtesy of AAU