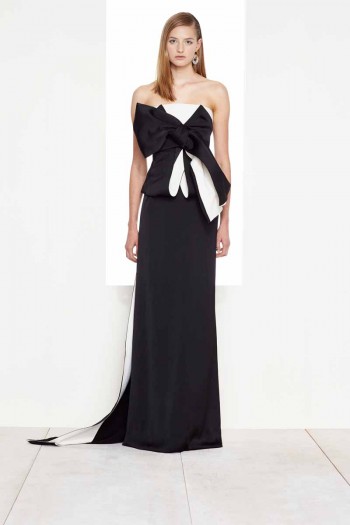 With a provocative title, "EAST MEETS WEST, BLACK MEETS WHITE" the Donna Karan Resort 2016 suggests urban chic that is deceptively minimal.
Described as sculptural, structured and soft, the collection is created for city life, holiday parties and non-stop international travel.
Proposing seven main pieces, the collection features a natural palette of black, bone, porcelain, ecru with a stroke of peony or rose quartz. Luxe fabrics are raw cut, baste-stitched and/or pieced together.
Stretch canvas, 4-ply silk, linen viscose, jacquard and raw silk gauze are the fabrics of choice. Textured panels tell the story: layers, tiers, planes – mixed with a Zen ease and flexibility.
The Serene 7 Easy Pieces:
1. The Worker Jacket
Relaxed, modern, spare. It's tailored with a mandarin collar and epaulette or sculpted with a rounded shoulder.
2. The Simple Top
A peplum bustier that goes day to night or a shirt with a stand-away collar that needs no jacket.
3. The Soft Trouser or Short
Structured linen, fluid in silk. It's full-legged and cropped at the knee or ankle. Suit it up by day and wear with a bustier at night.
4. The Flared or Envelope Skirt
A skirt with a bit of kick when you walk. One's clean and simple, the other wraps into a side slit. Either turns the bustier into a dress.
5. The Smock Topper
A flared coat in canvas, linen or bonded leather or suede.
6. A Modern Kimono
Ageless, timeless and dramatic. Whether it's a top, jacket or tie-back dress.
7. The Artisan Evening Dress
Sculpted or suspended, floating planes of fabric or embroidered tulle. Each a work of art: sensual and singular as the woman who wears it.
This is how a woman wants to dress – simple, confident – with a global sophistication ready to personalize day to night, London to L.A. Dress it up, dress it down and let life unfold.
To be continued…
Photos courtesy of Donna Karan