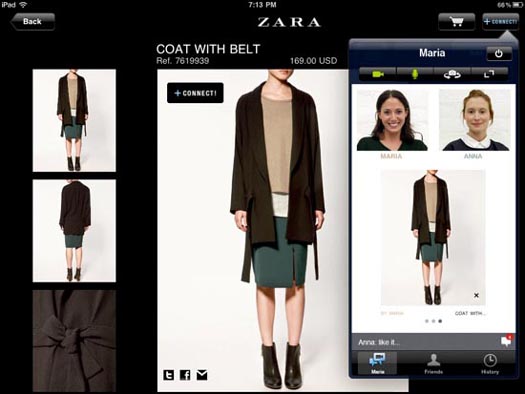 NEW YORK, Nov 2, 2011/ FW/ — Just in time for the holiday season, Zara enriches the shopping experience via its Zara+Connect iPad app.
The enhanced "Zara+Connect!" introduces going shopping online with friends through video calling. The iOS app, now available exclusively for users in the United States through the iTunes App Store, allows fashion fans to share their shopping experiences at Zara's online store (www.zara.com) with friends via video, audio and text messages; all in real time.
With Zara +Connect!, available as a free download, users replicate the experience of shopping with friends in regular stores by using the iPad to invite up to two additional contacts to join them as they browse the online shop.
The app enables users to share photos and chat using video (iPad 2 only), voice and instant messaging. Zara.com users can press the +Connect! button displayed on the top of each screen to connect instantly with friends and start a conversation in real time.
Zara is pleased to make this feature available exclusively to users in the United States following the September 7 launch of its US online store. The retailer's e-store offers the same full range of merchandise for women, men and kids as in its physical shops at prices matching those in stores, plus free shipping to all 50 states.