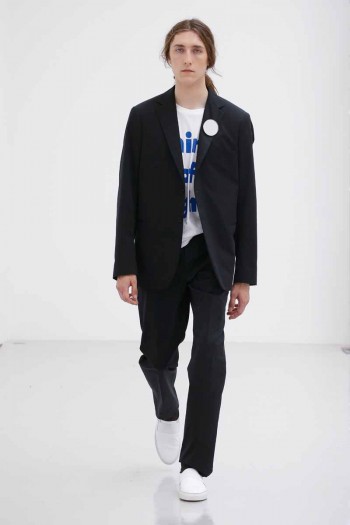 With a cryptic title, "Mystic European Dreamtime", Each x Other designer Ilan Delouis and Artistic Director Jenny Mannerheim examined the fundamental DNA of EACH X OTHER through the GEOMETRY OF WORDS, PRIMARY COLOURS and LIGHT for the label's first stand alone menswear collection.
The classic menswear wardrobe essentials are re-imagined with two of the core artists in our creative community that continue to inspire us, Robert Montgomery and Blair Chivers.
London based poet and contemporary artist Robert Montgomery, has developed several exclusive artworks for the collection, including a biker patch with the collection title, a new layered text application, and the statement tee shirt WE ARE NOT YOUR SERVANTS ANYMORE, whilst Canadian conceptualist Blair Chivers' works travel through the pieces, utilising the language of positive psychology, imploring us to THINK OF LIGHT.
The label is also introducing a new collaboration with the French artist and designer auteur Jean-Charles De Castelbajac, the infamous art-meets-fashion pioneer.
The silhouette is light and relaxed, with soft luxurious fabrications; 110 wool suiting, garment dyed canvas outerwear, denim classics re-imagined in electric blue suede, sports influenced lazer-cut leather, and elastics recalling our 1990s underwear obsessions have been developed as playful detailing.
The garments have a nomadic spirit, to accompany our free thinker on his journey through life, with a certain sartorial nonchalance, turning the codes of menswear inside out.
Photos by Gianni Pucci, courtesy of Each x Other