Date: 12 – 15 June 2015
THE LCM SS16 SCHEDULE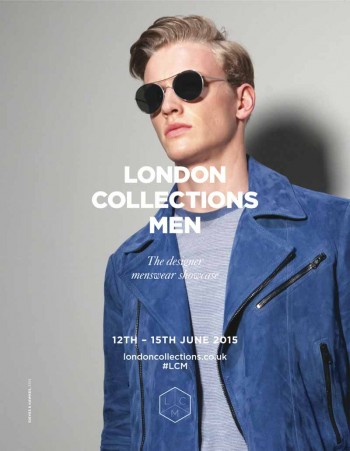 New additions to the London Collections Men (LCM) SS16 schedule include presentations from Berthold, House of Holland's debut menswear line, LATHBRIDGE by Patrick Cox, Tommy Hilfiger and Tourne de Transmission.
LCM boasts returning global brands Alexander McQueen, Aquascutum, Belstaff, Burburry Prorsum, Coach, dunhill, Jimmy Choo, Joseph, Margaret Howell, Paul Smith, TOM FORD and TOPMAN.
The best of British tailoring, including Casely-Hayford, Chester Barrie, Gieves & Hawkes, Hardy Amies, Jermyn St, St James's, Oliver Spencer, Richard James, Savile Row Bespoke and Turnbull & Asser will present SS16 collections.
Christopher Kane, Christopher Raeburn, Christopher Shannon, J.W. Anderson, James Long, KTZ, Lee Roach, Maharishi, Matthew Miller, Nasir Mazhar, Sibling, Todd Lynn and YMC will continue to reinforce the UK's unparalleled reputation for creativity.
E. Tautz, the winner of the second BFC/GQ Designer Menswear Fund supported by Vertu, will show its SS16 collection at 10am on Monday 15 June.
The designers receiving support from NEWGEN MEN sponsored by TOPMAN for SS16 are Agi & Sam, Alex Mullins, Astrid Andersen, Bobby Abley, CMMN SWDN, Cottweiler, Craig Green, Diego Vanassibara, Kit Neale, Nasir Mazhar, PIETER and Vidur. A NEWGEN MEN pop-up showroom will take place at Victoria House each day for the designers to host press and sales appointments.
MAN, the joint initiative between TOPMAN and Fashion East celebrates its tenth anniversary. It returns to the catwalk on Friday 12 June at the TOPMAN Show Space at the Old Sorting Office and will feature Liam Hodges and Rory Parnell-Mooney.
Fashion East will showcase presentations from emerging menswear talents Grace Wales Bonner and Charles Jeffrey at the ICA gallery.
Rollacoaster will host the BFC Fashion Film Screening in association with River Island with films from Christopher Shannon, Mr Hare and Private White V.C.. TOPMAN and Burberry Prorsum will both be live streaming their shows online.
Across the four days of LCM there will be a number of events and parties including: Idris Elba and Superdry are launching a collaboration the evening before LCM with a party and private dinner; Storm Men is hosting a party at House of Vans in association with Hunger; DSQUARED2 is celebrating its 20th anniversary; GQ Style and Dunhill are hosting a reception; Men's Health is teaming up with Agi & Sam to co-host a party; The Earl and Countess of Mornington and Hunter are launching the new Hunter Field collection at Apsley House; Shortlist is throwing a party with House of Fraser and GQ is hosting the LCM closing dinner.
LCM SS16 SCHEDULE BY NUMBERS
At London Collections Men SS16 there will be 9,000 Lavazza coffee cups designed by Kit Neale
6,500 bottles of Warsteiner lager are consumed at London Collections Men
6,000 bottles of Little Miracles soft drinks will be served at London Collections Men
2,500 bags of Propercorn will be eaten at London Collections Men
1,800 GQ magazines are read on-site each season at London Collections Men
400 seats in the Victoria House Catwalk Show Space at London Collections Men
77 designers showing SS16 collections on schedule at LCM. This number has grown 67% since the first LCM in June 2012 (46 to 77 designers)
68 designers showing in the Designer Showrooms. This number has grown 50% since the first LCM in June 2012
Each London Collections Men 66kg of Lavazza coffee beans are ground and served. Approximately 5,000 Lavazza cappuccinos will be served
55 Penhaligon's candles are burnt at London Collections Men
47% growth in UK and international press and buyers attendance from June 2012 to June 2015
42 events, 32 catwalk shows and 33 presentations make up the LCM SS16 schedule
International press and buyers from 39 countries have confirmed attendance at London Collections Men in June 2015
38 designers/creative directors of brands showing on schedule studied in London (50%). 15 of them studied at Central Saint Martins (19%)
35 Mercedes-Benz vehicles will transport VIP attendees to shows, presentations and events during London Collections Men
There are 30 model stations in the backstage areas of the Victoria House Show Space at London Collections Men
24 brands showing on schedule have been in business for fewer than five years (31%). 42 brands have been in business for fewer than ten years (55%)
21 brands showing on schedule have been in business for over forty years (27%). 11 brands have been in business for over 100 years (14%)
15 brands showing on schedule have women at the helm (either as Creative Director or Head Designer) (19%)
10kg of the new Fudge Professional Structure Wax and 500 bottles of Fudge Professional Paintbox colours in Clockwork Orange, Pink Moon and Green Envy will be used backstage
4 Fudge Professional Brand Ambassadors will create 250 cuts using 27 cans of Fudge Professional Skyscraper Hairspray and 1kg of Fudge Professional Hair Shaper Styling Wax
3 official venues will be used for London Collections Men: The Hospital Club, The Old Sorting Office, and Victoria House
2 Swatch SISTEM51 watches will be launched at LCM
Runway Shows
Friday, 12th June
1200 TOPMAN Design Topman Show Space: The Old Sorting Office
1400 Craig Green* BFC Show Space: Victoria House
1500 MAN Topman Show Space: The Old Sorting Office
1600 Nasir Mazhar* BFC Show Space: Victoria House
1700 Christopher Shannon Topman Show Space: The Old Sorting Office
1800 Kit Neale* BFC Show Space: Victoria House
Saturday, 13th June
0930 Jermyn Street, St James's See invitation
1000 Lou Dalton BFC Show Space: Victoria House
1100 Astrid Andersen* BFC Show Space: Victoria House
1200 Hardy Amies See invitation
1300 YMC BFC Show Space: The Old Sorting Office
1400 Coach See invitation
1500 Agi & Sam* BFC Show Space: Victoria House
1600 Oliver Spencer BFC Show Space: The Old Sorting Office
1700 Matthew Miller BFC Show Space: Victoria House
1800 Casely-Hayford BFC Show Space: The Old Sorting Office
1900 SIBLING BFC Show Space: Victoria House
Sunday, 14th June
1000 J.W. Anderson WC1
1100 Margaret Howell W1
1200 James Long BFC Show Space: The Old Sorting Office
1300 Richard James See invitation
1400 Christopher Raeburn BFC Show Space: The Old Sorting Office
1600 Alexander McQueen See invitation
1700 Maharishi BFC Show Space: The Old Sorting Office
1800 dunhill See invitation
1900 KTZ SE1
Monday, 15th June
0900 SEAN SUEN presented by GQ CHINA BFC Show Space: Victoria House
1000 E. Tautz BFC Show Space: The Old Sorting Office
1100 Xander Zhou BFC Show Space: The Old Sorting Office
1200 Katie Eary BFC Show Space: Victoria House
1300 Burberry Prorsum See invitation
1500 Bobby Abley* BFC Show Space: Victoria House
1600 Tiger of Sweden BFC Show Space: The Old Sorting Office