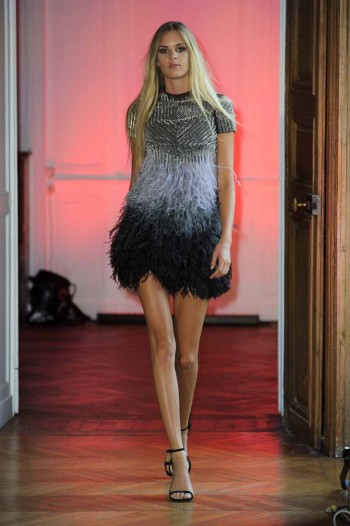 This is the third collection by Alexandre Delima, who, after establishing his codes, has now reasserted and transcended them.
Fifteen silhouettes in a clear-cut, radical wardrobe for the heroine of today and the future. A duality has emerged, where classic, sensual materials combine with lively, clean-lined cuts with a touch of the futuristic.
The Delima "Wild" look is strong and sensual. This feline woman sports a trouser suit in lamb and kid suede, a false bi-material jacket in fox fur with kid sleeves, or an equally appealing long-haired goatskin bolero.
With evening, wear, a short "optical illusion" cocktail dress with a geometric embroidery top and a skirt in shaded ostrich feathers also has powerful appeal for her…
Her appetite also leads her towards hyper-feminine long or short dresses in bright blood reds. Satiated, she casts a tender gaze on a cowl neck or an invisible tulle embroidered in sequins…
Her desire and longing are expressed in a wardrobe with no place for the slightest embellishment, where each silhouette involves combinations dictated by a plethora of moods
Photos courtesy of Alexandre Delima