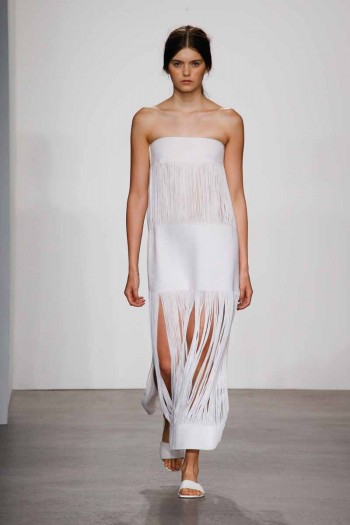 Claudia Li begins each season with a mood. For the spring/summer 2016 she felt a sense of solitary calmness and a lightness of spirit. Her collection focuses on airiness in technique and modernity in fabrication.
Throughout the collection there is an emphasis on craft, from the Japanese cottons to the hand-woven fabrics interlaced with yarn, which are made within her atelier and can take six-to-eight days to complete. Their exacting craftsmanship is meant to juxtapose texture and fluidity.
Yarn and knit-work is a constant theme in the Claudia Li collection. This season Claudia took fine Italian yarns woven through loops like horsetails to create an airy extension to each garment. Spring/summer 2016 is also the debut of Claudia Li footwear and handbags.
Photos by Gianni Pucci