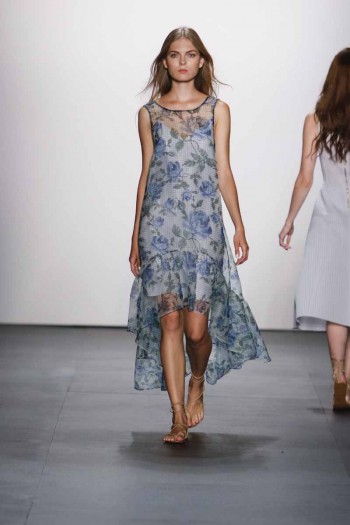 In a season where a return to femininity is one of the biggest trends, Erin Fetherston was inspired by two muses from two different eras – Jane Birkin and Anne of Avonlea.
The collection's title "Beneath the Bluest Sky" already hinted of a romantic collection. Influenced by the bucolic impressions of David Hamilton and Deborah Tuberville, Erin Fetherston sent out embroidered tulle, organza, and fluid silks that are rendered in clean and languid lines.
That blue is the collection's defining color is again hinted by the title. Still, the collection's delightful surprises are the use of earthy pastels and Victorian white, which by the way is another big trend this season. White is the new black!
The mood is of Arcadian reverie. Fabrics float lighter than air. While slips make the season's statement, it's the capelets that catches your attention.
And the accessory de rigueur is the minaudiere which Fetherston created a capsule collection. Each one is delicately stitched with monograms and 'bon mots', perfectly capturing the convivial spirit of the season.
Photos by Dan Lecca, courtesy of Erin Fetherston