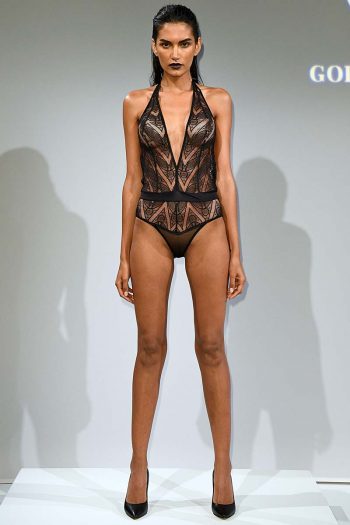 NEW YORK, Sep 7, 2016/ FW/ — On the eve of fashion week, Pier 59 Studios was hopping with the music of head-bobbing electro-pop band SHAED as band members – multi-instrumentalist twin brothers Max and Spencer Ernst and powerhouse vocalist Chelsea Lee performed live to delighted fashionistas attending the launch of God Save Queens Spring 2017 lingerie line.
Created in 2014 and already gaining momentum in the U.S. market, God Save Queens or GSQ for short is already known as an ultra-feminine, sensual lingerie. Designed by Polish designer Karolina Bernaciak, the line is produced in Poland under the watchful eye of the designer.
"There is no place of improvisation in the production process," explains Bernaciak. Everything is well thought-out. Materials are carefully selected, especially the subtle laces that are imported from Italy and France. GSQ is partly machine made but finished manually.
"This way, I keep the quality under control. I am a perfectionist and when my company was established, I knew that every single detail must be taken care of," says Bernaciak.
Since its launch, GSQ became an instant favorite of famous Polish models Kasia Struss, Dominika Robak, Zuzanna Kołodziejczyk and Ola Kowal. The brand turned viral on social media when photos of Kylie Jenner in her GSQ set was released.
With its popularity on a new high, the owners of the brand did not sit back. "I associate God Save Queens with prominence, sex appeal and seduction. It just cannot stand still."
The ethereal and subtle laces from the last collection were replaced by an interplay of details focused on forms, cut-outs and non-standard marriages. The new collection is a combination of laces, leather applications, microfiber and elastic. As a whole, it is very feminine, yet quite provocative at the same time. The models, seemingly casual, are full of sex appeal thanks to sensual, deep cut-outs, perfect fit and numerous transparent elements.
Photos courtesy of God Save Queens