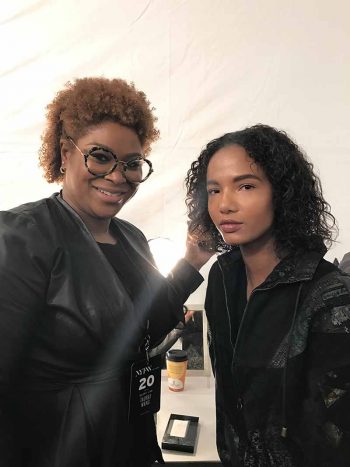 Backstage at Taoray Wang Fall 2017 show, FashionWindows caught up with Bobbi Brown Cosmetics make-up artist Tia Hebron who gracefully explained to us the look for the upcoming show and what to expect in terms of make up next season.
Interviewer: What look do you envision this season?
Tia Hebron: This season, it is a look that is strong yet very feminine at the same time. The emphasis is on skin that looks really hydrated. You do what you need to do for your foundation but you don't spend a lot of time on it. You can see healthy hydrated skin.
The cheeks have this really beautiful hydrated glow to them and what I really love is that we created a glow through our skin care not necessarily powders and shimmers. So, this is quite a different approach to make up backstage.
Brows are bold this season so we are doing a bold structured brow. A wash of color across the lower lip. No eyeliner. Mascara right to the lash line to really crimp and lift the eye.
The lips have a matte tone and look like you just had a glass of wine. The lips are stained. It's like you put lipstick on early in the morning and you just let the stain roll with you throughout the day. If you are on the subway or in your car, without even looking in the mirror, you put on the lipstick, blot it and roll. It's imperfect lips.
Overall, it is a beautiful look and really beautiful make-up.
Interviewer: Is it almost like naked?
I can't say that it is necessarily naked. It's like comfortable. It's almost like lived in, it's not really structured. It is structured in the sense of finding that one thing that you want to do the structure. In this case, it's the brows and the mascara.
There you have it. The look next season, which surprisingly is an easy look to achieve and you can do it at home.