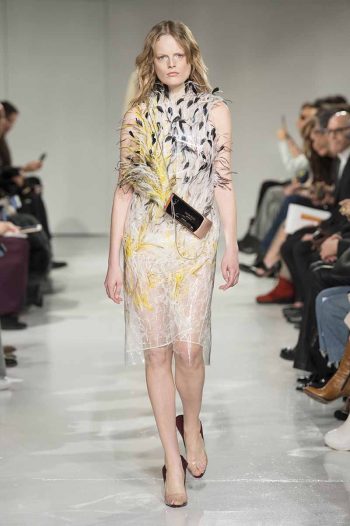 Raf Simons continue to surprise the fashion crowd with the very exciting path he is taking as Chief Creative Officer for Calvin Klein. First, the launch of Calvin Klein by Appointment on January 22. Dubbed as made-to-order, this new line for the brand basically brings Calvin Klein to the lofty world of couture. Which by the way asks the question, is this Raf Simons' way of giving notice to the Chambre Syndicale that he plans to add "haute" to the collection soon?
Then of course, there is his debut collection for Calvin Klein which was unveiled on February 10. That it is a Perfect 10 is a given. That it is surprisingly American from head to toe, beginning to end, is the reason it is buzzing!
The show took place within an artwork by artist Sterling Ruby, which was completed at the invitation of Mr. Simons as part of his curatorial approach to the brand. Mr. Simons gave Mr. Ruby free reign to imagine a work appropriate for CALVIN KLEIN; Mr. Ruby imagined America.
Presented within the artwork is the debut ready-to-wear collection by Raf Simons for Calvin Klein. This collection was completed with the Creative Director of the brand, Pieter Mulier. Featuring women's and menswear, Fall 2017 is itself an homage to America.
"It reflects the environment," says Mr. Simons. "All of these different people with different styles and dress codes. It's the future, the past, Art Deco, the city, the American West…all of these things and none of these things. Not one era, not one thing, not one look. It is the coming together of different characters and different individuals, just like America itself. It is the unique beauty and emotion of America."
In the collection, one material impacts another and one style impacts another — often in the same silhouette. Cohabiting, cross cultures of clothing find new forms: not the old, not the new, but the necessary. The collection is a celebration of this diversity.
With its mix of marching band uniforms, plastic coated protection, power broker tailoring, antique handcrafted quilting, workwear, and western wear, it is a unique kind of parade that is evoked. It is one that finds equal merit in folk and function, food court and courtroom, from the humdrum to sci-fi, the urban to the rural. It is a romantic and filmic outsiders' eye view of the uniqueness of America.
Mr. Simons presented his debut collection to an audience that included notable guests Brooke Shields; Gwyneth Paltrow; Julianne Moore; Sarah Jessica Parker; Lauren Hutton; Naomie Harris; Millie Bobby Brown, who currently appears in the global advertising campaign for Calvin Klein By Appointment; Kate Bosworth; Greta Gerwig; Ashton Sanders; Alex Hibbert; Laura Harrier; A$AP Rocky, Sofia Coppola; Amber Valetta; Karlie Kloss; Alexa Chung; Tavi Gevinson; as well as key editors, stylists, retailers and influencers.
Photos by © 2017 Giovanni Giannoni, courtesy of Calvin Klein