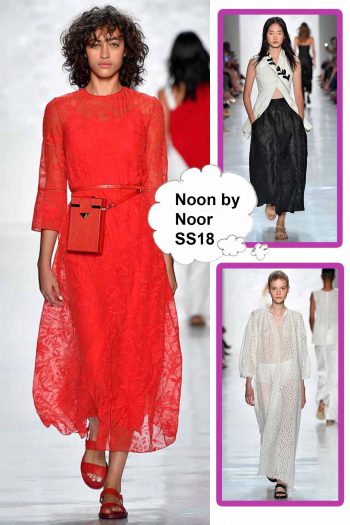 In a time when gender fluidity is the hottest topic, Noon by Noor chose to merge masculine shapes with times femininity to come up with a unique, versatile even provocative pieces for its Spring/Summer 2018 collection.
Unveiled on September 7, 2017 during New York Fashion Week, Shaikha Noor Rashid Al Khalifa and Shaikha Haya Mohamed AlKhalifa, the design duo behind the label drew inspiration from their home country Bahrain, which is portrayed through the color palette of red and white, sketchbook print, embellishments and several silhouettes and shapes within the collection.
For Noon by Noor, the Spring/Summer 2018 collection achieves a blend of masculine and feminine elements by exploring masculine shapes in wide leg trousers, tailored blazers, oversized shirts and knitwear while ruffles, pleats, billowing sleeve shapes and sheer fabrics attest to the collection's femininity.
The core color palette of red, soft white and rosebud pink is supported by black, as ladybug and large sketchbook floral print contribute to the all over textural pattern. Using signature techniques, the floral sketch is embellished on blazers, skirts and dresses.
Pleated detailing offers clean minimal lines, and sheer cottons and silk fabrics present a modern take on Bahrain's traditional silhouettes. Oversized tailored trousers are paired back with knitwear, offering classic mannish tailoring.
This season's collection also introduces cotton embroidered and printed t-shirts, quoting the words "Love" or "Wisdom" in Arabic script with its English translation featured on the back, which are styled with trousers and skirts.
New for Spring/Summer 2018, Noon By Noor has collaborated with luxury L.A. based handbag designer Tyler Ellis to create a signature 10-piece capsule collection comprised of two styles a sleek Kelly Box and Lee Pouchet envelope clutch. Presenting its first handbag collection, Noon By Noor features a variety of luxe textures, fabrics and gold hardware.
Photos courtesy of Noon by Noor